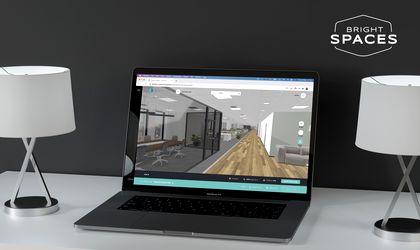 The digital visualization and leasing platform developed by Bright Spaces for Vox Technology Park is now live and can be accessed by potential clients and real estate brokers on https://leasing.voxtechnologypark.ro/. Vox Property Group is the first real estate developer in Timisoara that digitizes its leasing processes and goes for an innovative approach in showcasing its spaces.
Vox Technology Park, with a total surface of 26.600 sqm, can be now seen in a 3D interactive environment that was built together with the PropTech startup Bright Spaces. The building is BREEAM International In-Use Outstanding v6 certified and it integrates multiple high-end technologies and it can now be visited virtually on  https://leasing.voxtechnologypark.ro/.
Through Vox's partnership with Bright Spaces, signed in September 2020, the developer brought this innovative Romanian solution to Timisoara. Besides showcasing the building in 2D and 3D, the online platform allows:
Mapping the main tech specification of the building
Showcasing the main points of interest and access points
Booking visits or asking personalized offers from the developer/the broker
Real time availability
Fitout options for any leasable floor
Vox Technology Park had many positive results in 2020. Over 6.300 sqm of office spaces were leased and the project was BREEAM In-Use Outstanding certified, the highest certification internationally and it was the first Romanian real estate project that received it, after the latest and most thorough BREEAM version, released in May 2020.
"The way 2021 began makes us positive that this year is going to be a good one. The platform developed by Bright Spaces supports our dedication to innovation, tech and digital integrated solutions. We were the first building that started using biometric access in 2018, thus increasing the safety measures that proved to be extremely efficient now, during the pandemic. Thus, we innovate the leasing process of the spaces from our building, through a 3D showcasing of our offices and we optimize the landlord-broker-tenant interaction" – said Mark Oancea, Managing Director at Vox Property Group, developer and owner of the project.

Mark Oancea, Managing Director at Vox Property Group
—
"Our international growth couldn't be possible without scaling our business locally, first of all. Through our strong partnership with Mark and his team from Vox Technology Park, we manage to position our platform as a future tech solution for the Romanian real estate market. We are honored by our partner's trust and their openness to innovation and digitization." – Bogdan Nicoară, CEO & Cofounder Bright Spaces.

Bogdan Nicoara, CEO & Cofounder Bright Spaces