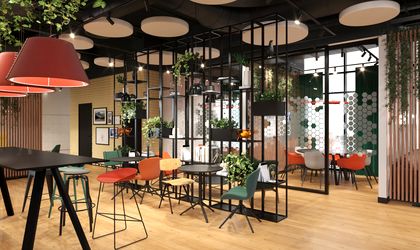 IMMOFINANZ, one of the leading companies in the local real estate market, announces the launch of the successful mycowork, a myhive flexible office product offering customized workspaces for all types of companies in Romania. Internationally, the mycowork concept was first implemented in Vienna in 2020 and rolled out successfully in several European cities. The first mycowork space in Bucharest has been set up by the company in the myhive S-Park building on an area of 465 sqm. The space is structured to serve several categories of clients and allows both single desk rental, team working and project development spaces and integrated coworking areas. All tenants have access to shared modern infrastructure, generous workspaces, natural light, and fresh air.
"The new concept, conveys a focus on flexibility, agility and innovation, providing a working environment of unprecedented quality in the market. With myhive, IMMOFINANZ has anticipated the hybrid work trend by proposing modern, flexible, and customised work solutions. mycowork complements this offer with affordable options with a superior level of customisation. We are targeting a broad category of companies, in areas with a strong dynamic of development", said Fulga Dinu, Country Manager Operations IMMOFINANZ Romania.
The rental of workspaces under the mycowork concept is for a minimal period of one month. The space has been structured to meet the needs of different types of companies and offers tenants everything they need for a successful workday: flexible individual workstations, kitchen and lounges for breaks and networking, beverages, as well as meeting and focus rooms. The mydesk product offers tenants the choice of a single desk, while myroom is dedicated for working teams and myflex is an integrated coworking area.
IMMOFINANZ placed particular emphasis on the development of common areas, i.e., reception, lobby, kitchen, meeting rooms or relaxation rooms, as well as terraces. The spaces are fully furnished and can be occupied immediately. Offices are developed using modular partitioning systems.
The monthly rent covers a wide range of services and benefits offered to members.
Internationally, the mycowork concept was first implemented in Vienna in 2020 and rolled out in several European cities, such as Warsaw and Budapest.
In Romania, IMMOFINANZ will extend the myhive flexible office concept to other buildings in its portfolio, by implementing myoffice product, a space that can be fully personalized, and is dedicated to companies with minimum 20 employees.