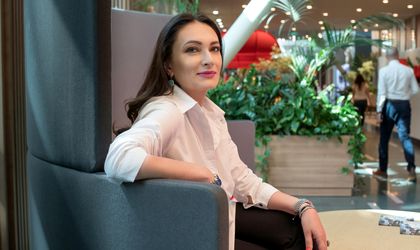 IMMOFINANZ has three myhive office buildings in Bucharest and plans further rebranding of its standing office investments. This concept stands out as it is entirely created with respect and care for the needs and wishes of modern people, says Fulga Dinu, country manager operations, Immofinanz Romania. She speaks about the company's strategy in Romania and the trends shaping the office and retail segments on the local market.
What is IMMOFINANZ's strategy for its operations in Romania in 2019?
In 2019, our strategy is to further develop our office and retail portfolio as well as strengthen our position in the top 3 commercial real estate players on the Romanian market.
We focus our portfolio on three brands – myhive for offices, VIVO! for shopping centers and STOP SHOP for retail parks. For the Group, this strategy has proven to be very successful as the occupancy rate reached almost 96 percent – the highest level in the company's history – at the end of December 2018. This is also proof that IMMOFINANZ has a strong position on the international level and it is clearly a result of our brand policy and our strong customer orientation.
What were Immofinanz Romania's results in 2018 and how did local operations perform at group level?
With a portfolio volume of EUR 4.3 billion and an occupancy rate of almost 96 percent, the company ranks among the leading commercial real estate players in Europe.
For IMMOFINANZ Romania, 2018 was the year of further strengthening its position on the market as one of the leading commercial real estate players. We worked on expanding and improving our above-mentioned international brands, constantly investing in the quality of our portfolio.
We already have three myhive office buildings in Bucharest and we are planning further rebranding of standing office investments. myhive is IMMOFINANZ's international office concept, characterized by its hotel-inspired special design that provides a broad range of services and facilities that allow tenants to focus on business, attract new talents and build a successful community.
As for the retail portfolio, IMMOFINANZ has a strong presence on the Romanian market, mostly represented by the four VIVO! shopping centers and one STOP SHOP retail park.
What is your forecast for the Bucharest office market in 2019 in terms of deliveries and development poles?
The office market is a continuously changing environment and Bucharest is not different. Currently, Bucharest has developed several office hubs, which continue to grow and attract new businesses.
Nowadays, office developers in Romania prove that they understand that office buildings have to offer more than just simple working spaces.
The wellbeing of employees in the office has become both a challenge and an opportunity for all developers. We have noticed how companies have started to recognize that a thoughtful, progressive work environment can reflect brand value while improving the health and productivity, innovation and collaboration of a team. It is not so much about working spaces anymore, but about living spaces, with employees' wellbeing becoming a priority.
Office spaces are already part of value creation, helping to recruit, enforce the brand and provide visible sustainability credentials, and the trend will continue in this direction. This is why our myhive concept stands out as it is entirely created with respect and care for the needs and wishes of modern people.
What are the development principles of myhive, the office concept that is present on the Romanian market?
myhive is indeed the concept of the future for offices and it sets the trends in the office segment. The innovative concept that belongs to IMMOFINANZ has been created with one main goal in mind – to support successful companies in all their needs.
Four pillars define the myhive concept: contemporary design, thoughtful service, lively infrastructure and active communication. Every day, myhive tenants get a friendly greeting at the welcome desk, in a warm and pleasant atmosphere. This is all enhanced by several service offers and support from the myhive Community Managers, as well as an exclusive lounge.
At the same time, great value is placed on networking among tenants. Our myhive Community Manager takes care of organizing educational, sports or leisure events as well as fairs and workshops that contribute to creating a very strong community among the tenants.
How did Immofinanz implement the myhive concept in its Romanian offices and what has been the feedback from tenants?
We currently have 3 myhive buildings in Bucharest – myhive S-Park, myhive Metroffice and myhive IRIDE Tower – and we are planning further rebranding.
We chose the office buildings in our portfolio that met the myhive requirements. First, the size and infrastructure needed to be right. The office property should be at least 10,000 square meters.
Furthermore, with its strong community idea and its numerous events, myhive is appropriate for multitenant buildings.
The feedback from our tenants has been very good and this is reflected in the high occupancy rate of myhive buildings and the high rate of registrations on our myhive app, the community's hub. We like to say that we exceed our tenants' expectations and we are one step ahead of their demands and needs.
As customer satisfaction is right at the top of our company's list of priorities, we listen and continuously update the services and facilities in our buildings. From the beginning, we've made sure to take into account the recommendations and needs of our tenants when we created the myhive brand, and our goal is to continue working in this cooperative manner!
How are new generations of employees perceiving the office environment?
As the place where an employee spends most of their day, the office environment has become a very important aspect of everyday life and it has to respond to people's various important needs and desires.
As previously mentioned, office buildings nowadays have to offer much more than a simple work space. The office space market remains an ever-changing environment. As the labor market is increasingly competitive, companies are more and more focused not only on attracting but also on keeping valuable employees, and office spaces play a crucial part in this.
Landlords have to invest in sustainable buildings with modern design and provide diverse services to meet the tenants' needs and contribute to their general wellbeing. This is also IMMOFINANZ's major focus. With the myhive experience, we are constantly striving to be up to date to the constantly changing needs and demands of our clients.
From your perspective, how important is the design and location of an office for the retention and recruitment of staff?
Design and location are definitely very important for an office building. To support this statement, the best example is again myhive. The premium design is modern and it creates a warm and feel-good atmosphere.
Design contributes a lot to the good mood of employees and it stimulates creativity, which is crucial for the development of businesses.
Location has always been a key element, as people need to have access to public transportation and any additional benefits, such as the proximity of a beautiful park in the case of S-Park, contribute further to the preference for the location.
What major trends do you see shaping the local retail sector in 2019 and what do they mean for your retail portfolio?
Due to a very high-paced contemporary way of life, it is paramount to offer people in our shopping centers a 360˚experience. Consequently, we focus on good quality experiences supplemented by leisure areas, children's playgrounds, and family areas.
A good example of our efforts to respond to customer satisfaction is our recently created park next to the VIVO! Cluj shopping center.