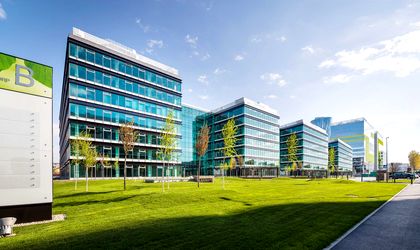 Lion's Head Investments, a joint-venture between Old Mutual & AG Capital, makes its first steps into the Romanian real-estate market and announces the finalization of the acquisition of Portland Trust's and Ares Management LP Oregon Park project, a three class A Office building set in the Northern part of Bucharest. The transaction was finalized on June 14th, 2018.
The transaction comprises the purchase of the first two buildings (A and B) and the forward purchase of third building (Building C ), that is currently under construction. At this time, the first two buildings of Oregon Park are fully leased to big international tenants like Oracle, Deloitte, Euler Hermes or Kepler Alten.
Considering the size of the business park and price that the Oregon Park was bought, Lion's Head Investments transaction becomes the biggest in the office market in Romania so far.
"After a year-long research in the Bucharest Real Estate market we realized that Oregon Park met all of our criteria's in terms of quality, sustainability, long-term value and excellent tenant mix.  Therefore, we're happy to enter in the Romanian market with an acquisition from a reputable developer as Portland Trust and this marks only the beginning of our ambitious plans," states Sergey Koinov – CEO Lion's Head Management.
When finished, Oregon Park will comprise of three office buildings, with approximately 70,000 sqm of leasable office space, BREEAM certified to an EXCELLENT level. By the end of 2019, Oregon Park will become one of the most modern, efficient office environment projects in the Barbu Vacarescu- Floreasca area and also in the Northern part of Bucharest.
"I consider Romania, and in particular Bucharest as being in a strong market development. This is a result generated by new or existing international tenants' demand as well as a healthy pipeline of approximately 600,000 sqm of office projects planned or under construction. As we look at other existing buildings, I see also big opportunities in new developments," said Lori Collin, director Romania Lion's Head.
Lion's Head is a long-term investor in prime income producing commercial properties in the SEE region, already present in Sofia, with Polygraphia Office Center, one of the city's historical landmark buildings, comprising over 35,000 sqm of fully leased offices to global companies such as Bosch, EY, GfK, Groupama or Poker Stars. The project was opened in May 2018.
Megapark is also an office project secured by Lion's Head Investments in Sofia. With 75,000 sqm office space, it is set next to one of the most successful shopping centers in Sofia. Its tenants are big international companies like PPD, Experian, GlaxoSmithKline, Interoute, Huawei, Strabag, LG Electronics, Hostway or Deichmann. The transaction is expected to be completed after approval by the Commission for the Protection of Competition.
After the transactions in Bulgaria and Romania, Lion's Head Investments portfolio will include three properties (5 buildings) in total of 235,000 sqm office and an estimated value of EUR 310 million.
AG Capital is a Regional investment group of companies with real estate investments, developments, advisory and asset management capabilities. AG Capital has a history of more than 25 years in the region. Old Mutual Property is a leading South African property owner with more than 40 years of experience and is a part of Old Mutual Group.