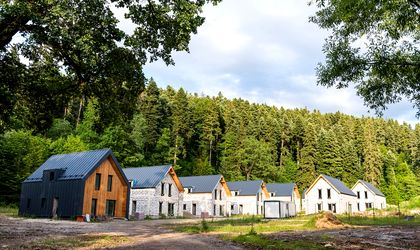 The real estate development company was founded and is led by Ionuț Nicolescu, following his exit from the real estate consulting company SVN Romania and the real estate holding Meta Estate Trust, where he was one of the co-founders.
Montebello Transylvania Resort will consist of 47 Scandinavian-style chalet villas with large glazed spaces and premium amenities, as well as individual facilities such as gazebos, jacuzzis, landscaped private gardens, and two private parking spaces. The project is located in a 2.6-hectare mountain meadow near Brașov, amidst an ancient forest in the Cristian area, and close to the Râșnov – Poiana Brașov road, just 20 minutes away from the recently inaugurated Brașov International Airport.
Montebello Transylvania Resort is a conversion project, developed on the former site of an abandoned brick factory for over 25 years. In the past 12 months, extensive work has been carried out to connect and link the land to all utility networks, which were previously several kilometers away from the project. Currently, individual connections of the villas are being carried out, as well as general landscaping of the land and project, which will include three parks and a range of facilities, including a concierge service for reservations, equipment rentals, catering, and provisioning. The first phase of the project is expected to be completed in November of this year.
"Brașov has become the second largest residential market regionally in Romania and offers the highest investment return in the country, with properties attracting tourists throughout the year. The development potential of Brașov is enormous, and the opening of the International Airport will bring significant benefits to all economic sectors, including tourism – just two charter flights can occupy the entire five-star hotel capacity in Brașov. We have decided to develop not only a project that meets the desires of buyers looking for a premium vacation home but also a product that offers a high investment return," said Ionuț Nicolescu, founder of Grand Development.