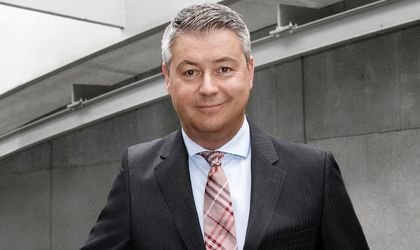 As part of the March issue of Business Review print magazine main cover story, Anda Sebesi, BR's editor-in-chief, talked with Fulga Dinu, Country Manager | IMMOFINANZ Romania, and Oliver Schumy, CEO | IMMOFINANZ AG, about the company's unique experiences in all its properties. Today, we'll find out how IMMOFINANZ plans to offer a 360-degree retail experience with the VIVO! shopping centers brand, from Fulga Dinu, while Oliver Schumy will talk about the company's international perspective.
By Anda Sebesi
A 360-DEGREE RETAIL EXPERIENCE
Due to a very high-paced contemporary way of life, it is paramount for developers to offer people in their shopping centres a 360-degree experience. Therefore, retail spaces have been focusing on doubling down on shoppers' experience, with shopping centres offering not just a great entertainment opportunity but also striving to be pillars of their communities by offering support and resources for cultural, educational, and social activities. As a result, IMMOFINANZ focuses on good quality experiences supplemented by leisure places, children's playgrounds, and family areas. At the same time, the company carefully monitors consumer trends on both the international and the local markets, and it continuously seeks to update and adopt them. "Our VIVO! shopping centers are fully rented and we continuously register footfall increases," Dinu adds. In Romania, the company is now in full process of evaluating its retail portfolio, in order to further upgrade the VIVO! shopping centers.
Furthermore, at the end of 2019, the company finished a modernisation process and re-opened VIVO! Cluj-Napoca as an ultra-modern shopping and leisure space. "In the newly-refurbished shopping centre we have launched new and famous brands such as Peek & Cloppenburg, which has become the largest fashion retail shop in Transylvania with an area of more than 3,500 sqm. Also as premieres for the region we have opened Zara Home and Oysho (part of Inditex Group) as well as Pepe Jeans, Skechers, ACBC, and Nespresso. Moreover, several other brands that were already present in VIVO! Cluj-Napoca have reopened their stores under new concepts," she says.
The refurbishment of a substantial part of VIVO! Cluj-Napoca has practically placed the city on the international retail map. The mix of new famous fashion brands and new store concepts, plus the entertainment, leisure and family areas have generated very good footfall numbers for the company ever since the reopening at the end of 2019. "Currently, we are prospecting the market and gathering data in order to be able to provide our customers with a better shopping experience in all our Romanian VIVO! shopping centres," says Dinu.
Speaking about how the company adapts its retail concepts to Romania, so that they can meet both current and future standards in the sector, Dinu says that considering that the world is rapidly digitalizing, it is necessary for everyone to adapt to this global trend. Technological developments heavily impact consumer behaviour and therefore customers' desires are becoming more and more sophisticated and moving from providing a product to offering a service or an experience. "As a retail landlord, IMMOFINANZ is very much focused on creating good quality experiences that are supplemented by leisure places, children's playgrounds, and family areas. Based on the diversity of services provided, our VIVO! shopping centres have become real hubs for the communities they serve. And it is our goal to support the development of the communities we are part of," she says.
AN INTERNATIONAL PERSPECTIVE
According to the data provided by IMMOFINANZ, the company's overall property portfolio included 216 properties as of September 30, 2019, with a combined value of roughly EUR 5.1 billion. They are mostly located in the core markets of Austria, Romania, Germany, Poland, Czech Republic, Slovakia, and Hungary.
"Following the reorientation of our portfolio in recent years, IMMOFINANZ has successfully returned to a growth course. Our latest acquisitions in the office and retail sectors combined with major completions have strengthened our sustainable earning power and grown our property portfolio more than five billion Euro", comments Oliver Schumy, CEO of IMMOFINANZ. He also points to the financial stability of the group: "We have received an investment grade rating  from S&P at the beginning of 2019 and, as a result, joined a very exclusive club."
"In the office segment, we have 58 standing investments totaling approximately EUR 3 billion in capital cities of our core countries and larger German cities. They have 1.08 sqm of rentable space," says Oliver Schumy, CEO of IMMOFINANZ . The company owns office properties in the capital cities of Austria, Romania, Germany, Poland, the Czech Republic, Slovakia, and Hungary, plus some in Dusseldorf, Germany. According to him, Romania belongs to the company's core markets and accounts for about 15 percent of its overall portfolio volume.
Schumy adds that in the retail sector, the company has 100 properties with a total value of more than EUR 1.6 billion. "There are 90 STOP SHOP retail parks and 10 VIVO! shopping centres.  The largest regional markets in the retail segment are Romania, Poland, and Slovakia." In a next growth step the company will extend its STOP SHOP network to around 100 locations, the CEO adds.