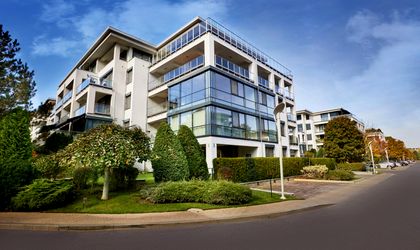 Tenants rather than owners. The alarming increase in interest rates, the inflation, as well as the crisis in the energy sector have caused requests to purchase housing to decrease in recent months in Romania, according to a study conducted by the company ValorEasy.
By Romanita Oprea 
An analysis of the real estate market in Romania shows that in 13 of the 41 counties, plus Bucharest, there were decreases in the volume of sales in the first 9 months of 2022. Among the important counties where a decrease in appetite for purchase was observed, Cluj, Timiș and Brașov registered decreases of up to 9% compared to 2021.
While the appetite to buy decreases, the desire to rent increases. And real estate developers keep pace with the market. Perhaps the most famous residential complex of this kind in Romania is Stejarii Clubul Rezidential. Developed by Țiriac Imobiliare 14 years ago, Stejarii currently has, according to the developer's representatives, more than 90% of its units rented, out of a total of 285 apartments.
Since its opening 12 years ago, Stejarii has definitively changed the real estate market in Romania through its high standards and the range of premium services offered to tenants. Located in the middle of the Băneasa forest, Bucharest, the complex consists of 8 buildings that benefit from certification according to the "WELL Health-Safety Rating" standard, which emphasizes the impact of the complex on the health and well-being of the occupants.
When choosing to rent, Romanians look for locations that offer multiple services, benefits and, above all, safety.
"Ever since we developed Stejarii, we have thought about offering living conditions at the highest standards and integrated 360 services. This means: concierge services, access to education for families with children, access to beauty and sports services in the immediate neighborhood and, above all, safety within the complex. We are proud that for 14 years we have created a brand on the Romanian market that remains, until today, unique", said Razvan Enache, General Manager of the Tiriac Real Estate division.
The position of the complex is ideal for those looking for an oasis of peace but also the comfort of a quick access to the important points of Bucharest. It is located in a residential area, surrounded by an oak forest of approximately 250 ha, with excellent urban access and proximity to amenities such as shopping, education and health centers. The center of Bucharest is accessible in up to 20 minutes by car and Henri Coanda International Airport is only 10 minutes away.