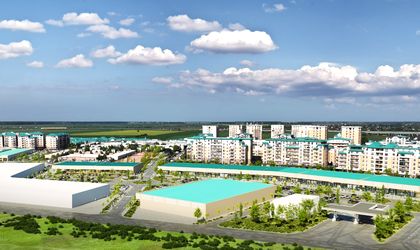 Cosmopolis Plaza, the first retail park in a residential complex in Romania, is expanding. Opus Land, the developer of the Cosmopolis residential complex, has started works on the expansion of the existing retail park.
"16,300 sqm will be added to the existing 3,500 sqm, and Cosmopolis Plaza will become the largest retail park in the north of the capital, with a surface area of almost 20,000 sqm.

We will multiply the number of shops we have in the proximity of our customers. Subsequently, at least 40 new shops will be added to the 31 existing businesses in our mall, which will cover all the interests of Cosmopolis residents. There will be international brands, with generous display spaces, so that customers will have access to a unique, relaxing shopping experience with a generous quantity of products on offer.

The expansion of Cosmopolis Plaza translates into an additional investment of €15 million," said Ozan Tuncer, CEO of Cosmopolis.
According to current plans, the mall expansion will be completed in less than a year and by June 2023 it will provide a thousand jobs in all the retail spaces it will house.
Jysk, Maxi Pet, Pepco, Spartan are just some of the big brands that will have a presence in Cosmopolis Plaza. The list will be constantly updated with brands of interest to customers of the residential complex, to complement the current offer of commercial spaces.
The expansion will create a link between the Lidl store and the existing retail park, which currently houses facilities such as Carrefour Market, a pharmacy, cafes, restaurants, fast foods, wine cellars, confectioneries, bakeries, pet shops, florists, tailors, beauty salons, a talent school, dry cleaning services, ATMs and more.
"We decided to undertake this expansion primarily for our ever-growing community, but also to provide all of our neighbors with the amenities they may need.

Since the retail park can be accessed from the residential complex as well as from the freeway entrance, we want this shopping center to become the preferred shopping destination for all Cosmopolis customers as well as residents of the areas adjacent to our complex," said Ozan Tuncer, CEO of Cosmopolis.
Retail Park Cosmopolis Plaza will also provide free Wi-Fi access and a play and entertainment area for parents with children.
This retail space will be the first choice for all residents of the Cosmopolis complex due to both its proximity and all the facilities required by its 14,000 owners and tenants.
CEE Estate and SVN Romania are jointly managing the relationship with the current tenants and are in charge of the new leases for the commercial spaces within Retail Park Cosmopolis Plaza.