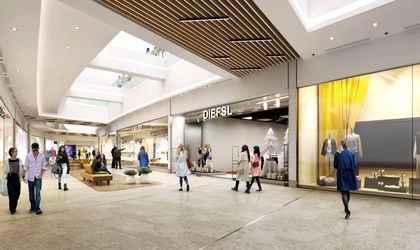 IMMOFINANZ, one of the most important companies active on the Romanian real estate market, announces the signing of several partnerships with famous brands, following the extensive refurbishment process of VIVO! Baia Mare. The new tenant mix includes Hervis Sports, Sport Vision, DeFacto, Kik, Various Brands, Colin's, Sabrini, TEILOR, English Home, Dr. Green, Nordpharm, La Casa, as well as a well-known German food discount retailer brand. Other brands like dm, Flanco, Animax, OPTIblu and Sizeer have opted to extend the footprint or occupy other areas of the shopping centre.
"We continue to invest to provide Baia Mare customers with easy access to the best quality products at affordable prices. The new tenant mix confirms this direction allowing us to remain the leading shopping and leisure destination in the region and to contribute to improving the experience of our customers", stated Fulga Dinu, Country Manager IMMOFINANZ Romania.
Based on the continuously changing needs of our customers, the new tenant mix covers the main shopping interests such as wide consumer goods – La Casa (local producer) and the new German food discount retailer brand; fashion – Various Brands, Colin's, DeFacto, Kik; sport – Hervis Sports, Sport Vision; jewelry – TEILOR, Sabrini; home goods – Enghlish Home; health – Nordpharm, as well as natural and bio products – Dr. Green.
The modernization works cover an area of more than 10,000 square metres, equivalent to one third of the center's total leasable area and are due to be finalized in November 2021. Besides the new stores, common areas such as corridors and relaxation areas and sanitary facilities will also be upgraded for a complete fresh look and feel. At the end, VIVO! Baia Mare will provide its customers a contemporary atmosphere, state-of-the-art customer services and an improved quality of stay, consolidating VIVO! Baia Mare's positioning as the main shopping and entertainment destination in Maramures. Upon completion of the works VIVO! Baia Mare will have a gross leasable area of roughly 29,000 square meters.
In the retail segment, IMMOFINANZ has three other shopping centres in Romania, located in Cluj Napoca, Constanța and Pitești. The retail portfolio is completed by the retail park SHOP SHOP in Botosani. The shopping centres owned and managed by IMMOFINANZ in Romania have an occupancy rate of over 98%.
In 2019 IMMOFINANZ carried out a similar refurbishment process of VIVO! Cluj Napoca, and the modernized area at the end of the works was 22,000 square meters.