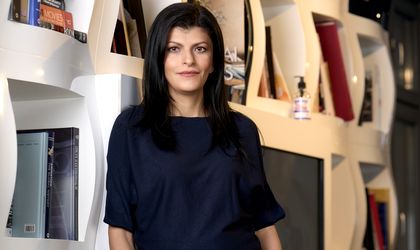 In the aftermath of BR's Working Romania | #futureofwork HR Conference, where Luminita Florea, People & Culture Director, Philip Morris Romania, was one of the speakers in the All Star | Employer Branding panel, Business Review sat down with her to find out more about how the PMI culture is applied and how the people of Philip Morris Romania have adopted these values.
How important is it to have well-trained employees? Can they upgrade their skills "at work", so to reach the expected level?
We at Philip Morris Romania like to say that we offer employees more than careers, we offer personalized challenges. A career at Philip Morris means lifelong learning and each one of us is contributing to the transformation of a company and an industry.
We're proud to be the first tobacco company to commit to a smoke-free future. It's the biggest shift in the industry —one that touches every team in our company. All of our colleagues, old and new, have the opportunity to achieve great things, shape the future, and share ideas with some of the best minds in the business. From office and remote settings to factories and laboratories, we offer an inspirational environment to every one of our employees. They can make an impact that will last for generations.
The company's business is changing globally, and this transformation is supported by over 71,000 employees worldwide. Each of them has an important contribution to make in this process. Our cigarette factories are transforming into factories that produce consumables for our smoke-free products and the employees are learning new skills, adapted to the new functions and the conversion of the factories. For example, the conversion of the factory in Otopeni led to hiring 300 new employees since 2017. In total, currently, the factory employs more than 950 people. None of them were familiar with the new technologies implemented in the factory or with the knowledge related to smoke-free products, so they all had to learn new skills, acquire new information, get trained. New jobs and capabilities were created. More than 400,000 hours were counted, during this period, as professional conversion and capability building.
So, yes, the answer is that well-trained employees are important for a company and that they can upgrade their skills "at work" when necessary.
We encourage employees to take risks, think openly and explore new skills and territories. This, combined with our culture of performance, inclusion and diversity, is an opportunity for them to grow, to actively support this common goal of delivering a smoke-free future, and in the process, they can be confident that we will motivate and support them to put their ideas into practice. We see it as a true partnership: employees are supported at every stage, with continuous opportunities to grow in the company with the support of colleagues and through professional training.
#MakeHistory, our employer brand, is the expression of this change, we are convinced that we are transforming the industry, we are writing history and we are all part of this transformation, and we are waiting with all those who feel challenged by our mission and are in our aspirations.
Given that new jobs are emerging, jobs no one is prepared for, is career conversion a solution to meet demands?
They say that the only constant thing in life is change, and of course, this applies to one's profession as well. We no longer live in the days when you retire from your first job. For many of us professional conversion has become a reality.
The transformation of our business to deliver a smoke-free future meant that we had to transform our factory in Otopeni, so professional conversion for all our employees was a must, as I mentioned. As our products change, we need to re-engineer how we operate. New supply chains. New production lines. New methods of distribution. Our operations teams make all of this happen. Being part of it means a chance to devise new ways of working and there is no limit to how you can enhance your current knowledge and develop new skills.
As a result of the major investment made in the conversion of the factory and attention paid to employee training, the employees in the factory are very well trained and their profile has changed a lot compared to 10 years ago.
Working smarter not harder is our long-term perspective and for this to make it happen we need to continue investing in our people's capabilities.
How much investment is needed in vocational training? How important is this investment?
We are a company that supports its employees and invests time and money in their potential. We offer them development and learning programs, but most importantly the opportunities to develop.
For Philip Morris Romania factory in Otopeni vocational training is very important as we are talking about skills required for a specific job function or trade, skills which one cannot get through traditional education.
As a company, we are not limiting only to technical trainings but also to soft skills development so much needed in both factory environment and day-to-day life: how to give and receive feedback, conflict management, safety, time management.
As a result of the investments made so far, the Philip Morris Romania factory in Otopeni has undergone a huge transformation process which has also shaped new jobs. You can tell us more.
Our factory in Otopeni is a great example to illustrate the company's transformation and the emphasis we place on innovation and technology to deliver a smoke-free future. Built in 2000, the factory has been producing cigarettes from the Philip Morris International's portfolio for the local market and export for 17 years. In 2016, PMI announced its commitment to replacing cigarettes with smoke-free alternatives, and in 2017, as part of the transformation process, the company began investing in the factory in Otopeni to convert it into a manufacturing unit for smoke-free products. The factory in Otopeni is one of three such factories in Europe, along with those in Italy and Greece, and one of the eight that exist worldwide.
After 5 years and almost $ 500 million invested in upgrading the factory and transforming the business, we have a state-of-the-art production unit that manufactures smoke-free products. In this process of transformation, new technologies and equipment are being implemented for the first time in Romania, while 300 jobs were created, including new positions and job descriptions. For instance, DigiPrint, a digital packaging printing technology that was first implemented in our country. This very modern, ultra-innovative technology has had a major impact in improving the speed with which our products reach market. But unless we had carefully invested time and resources into our employees' training, we would have no workforce able to operate such complex machinery.
Under the philosophy #MakeHistory, PMI is a company that challenges the status-quo. What does #MakeHistory entail and how do you challenge conventional thinking?
The transformation of the company is not only about a new product category, it is also an internal transformation, a change in the profile of the company and also of our employees. The employer brand #MakeHistory reflects the company's agenda regarding our goal of delivering a smoke-free future. The pillars on which #MakeHistory is built are based on our commitment to revolutionize the tobacco industry: "revolutionary change," "building the future," "stronger together," and "unlimited experiences."
#MakeHistory is the expression of this change, we are convinced that we are transforming the industry, we are writing history and we are all part of this transformation and waiting for those who feel challenged by our mission and our aspirations to join us.