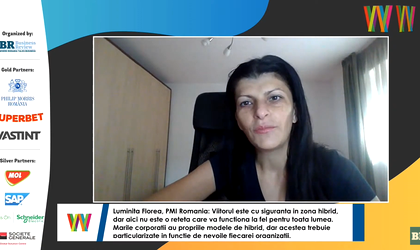 A speaker in the All Star | Employer Branding panel at BR's recent Working Romania HR Conference, Luminita Florea, people & culture director at Philip Morris Romania, shared her views about the new ways we work, live, connect, and how the future workforce is shaping up.
Since it's becoming abundantly clear that the future belongs to hybrid work, Luminita Florea, people & culture director at Philip Morris Romania, thinks that the common struggle for both employers and employees is the fact that we still don't have all the answers about this new way of working. "The future definitely belongs to hybrid work, but there is no recipe that will work the same for everyone. Large corporations have their own hybrid models, but these need to be tailored to the needs of each organisation." Says Luminita Florea.
"Some companies conduct tests among their employees to see how they handle the mix between working from home and working from the office. But I think that the best approach is accepting the uncertainty and the fact that we are moving into a certain direction, testing things out, adjusting, and keeping the things that work," Florea argues.
With that in mind, she says that customising working schedules based on the needs of employees could be a valid solution. "We've conducted several surveys among our employees and found out that about 10 percent of them would prefer to go to the office on a permanent basis because they feel more productive there."
Florea adds that while the work from home option was rarely used by its employees before the pandemic, the outbreak of covid-19 made it crucial for the company to develop managerial skills that were adapted to remote work. "We run a management development programme for managers of remote teams as well as a series of trainings for these teams to help them understand why the paradigm has changed. As a result, online collaboration is currently integrated at all levels."
According to the Philip Morris Romania representative, the company is now focused on imagining how its business and the local labour market will look like in the next three to five years, trying to understand how digitalization will impact the company's operations, and identifying the skills that should be developed right now in order for current employees or those who will join the company in the near future to be successful in their careers.