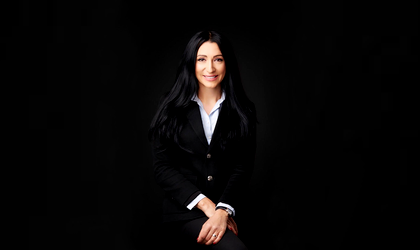 As the infamous saying implies, it is a man's world. But Gabriela Stănică, CIO at Carrefour Romania, says it is a world where equality should be the new status quo, especially when it comes to a healthy work environment, and, especially when talking about the tech industry. Her journey taught her the importance of looking to the future as an opportunity and her plans of developing a team with fundamental values of equality and inclusion brought her in the Carrefour World.
Looking back at what it once seemed like a rollercoaster filled with challenges, she is now seeing that the future belongs to thoughtful leadership, more so when talking about tech.
But facing the gaps was not an easy job, whereas now, she is ready to pass on her story as an influential leader who wants to go beyond the conversation when it comes to gender equality in the tech world. Gabriela talked to Business Review about women in tech and the her journey to this day.
Business Review: When did you become interested in technology?
Gabriela Stănică: When I was a child, I wanted to follow in my father's footsteps and become a Math teacher, so I joined The Faculty of Mathematics and Computer Science of the University of Bucharest without even thinking about the journey I was about to experience. One thing I had realized then was that it was a male-dominated area for sure.
But my ambition was higher than just the challenging stereotypes that exist in our society, and it was higher than just becoming another role in the tech world. It was an instinct I got after experiencing what it was like to be a Mathematics teacher as my father was and instead of passing on information in an educational environment, I wanted to be able to create an educational environment within a workplace, alongside my own team.
So I took it as a personal mission to prove not only to myself but to other "Gabrielas" out there that a woman in tech can go beyond the conversation and achieve her goals for herself, not to break the standards or to prove it to somebody else. I took it as a personal mission to become a leader who encourages self-confidence because STEM is an industry of leadership if you look at it as an industry of innovation.
How did you end up on your career path? What obstacles did you have to overcome?
I would probably say proving that I was better than my male colleagues was one of the biggest challenges and mainly because, as I was previously mentioning, society can often inflict the feeling of gender-comparison as a constant race. I wanted to do more, prove more, deliver more.
Shortly after, I understood that I need to do everything that I can to be the best version of myself and continue to invest passion and determination into everything that I am doing. So I started to race against obstacles and reach the finish line of every single stage of my career, just following it up with the infamous saying What doesn't kill you, makes you stronger.
I was fortunate enough to become the first IT-ist in a team of guys in a Women's company in Romania. And that was the beginning of my career and my growth as a leader. It was my first job and my first professional family. I started from the bottom, with lots of enthusiasm and responsibility, taking on new roles as years passed by.
One day, I got offered a position as an IT Director in a Global mobile Center of Excellence in New York, but one that brought along a new challenge: a team with missed deadlines and close to 0 motivation. It was only then that my great leader & mentor Bob told me: Gabriela if there is anyone who can see this through – you are the one. I know you can, and I trust you fully.
My "AhA" moment! All the fear, the sleepless nights, and panic became a matter of the past. The only thing that kept me focused was my wish to become more than just another woman in tech. I wanted to become the leader who grows teams, and whose teams grow the tech industry.
Would our world be different if more women worked in STEM?
Most certainly yes. Locally, we are still in a place that a woman's position within a company is often underestimated – the debate on diversity will not end unless everyone will acknowledge and promote equal opportunities. STEM, especially here in Romania is a fast-growing industry.
But it needs us to stop seeing it as a purely female or male area, but a mixed one where we see the benefits of innovating together.  It is one of the things I always looked for when choosing a team to be part of, just like the Carrefour World now became my new stop – it is a place where equality means more than just numbers or ideologies, and so I know I chose wisely.
But why aren't there more women in tech?
I will answer this from a position of professional, leader, colleague but also a mother. Unfortunately, the socialization of boys and girls continues in adulthood within the workplace culture. Both men and women should acknowledge the gaps and act upon them.
Therefore, the company culture has an essential role in this because I see it as an educational channel. We never stop learning, and we shouldn't stop learning when it comes to normalization.
The socialization of boys and girls and the way it perpetuates later in our lives depends on how we assume this responsibility also as leaders, managers, colleagues, teachers, mentors, and parents.
How is the Romanian market, from your POV, in its position towards promoting women in STEM?
STEM has changed in the past years, and locally, there is a remarkable shift when talking about the doors it has opened. But when it comes to women's voices, I think we need to make a great effort to transform the current status quo, continuously fed by the sexist stigmas existing within our culture. Addressing the issue is one thing, but acting upon it is what we need.
Combating those stigmas through educational tactics, actively recruiting and developing women is one point to start from.
As a leader yourself, how do you see the impact of technology in business?
To be completely honest, the era of technology is the normality nowadays, especially within the context of the pandemic. The challenges we had to face were barely visible in comparison to what would've happened if the technology was not even integrated into half of the business world. Because this is it, right? More than half of the business world is technologically powered – I often say I do tech for business, not tech for tech because I am not aiming to define success through technology but to use it to bring more value to the business itself.
What about its impact on retail?
Retail is one of the most dynamic industries, and retailers want to stay competitive on convenience, price, size, and speed. And this is where technology comes in, knocks on the doors, and starts responding to all of these needs by improving the customer experience, reducing shoplifting, providing real time demand visibility and by creating a more efficient and simplified working environment.
The concept of "store" as we know it has drastically changed over the past ten years. So we still have lots to explore and more to see when it comes to the relationship between technology and retail.
Your journey has been filled with both obstacles and achievements. What's next for you and what advice do you have for young women who want to join the tech/ IT  world?
I am currently building a new team, so my focus now is on creating an environment established for integrity, competence, and infused compassion.
I want all of my team colleagues, women and men, to become role models for young women and young men who want to join the tech world.
As a personal piece of advice:  listen but  do not try incorporating everyone's feedback and comments, perceptions, and opinions. Take aside what you feel is constructive feedback and trust yourself. Value yourself, and others will value you doing that and everything else that you do, from skills to knowledge, from personality to intuition.