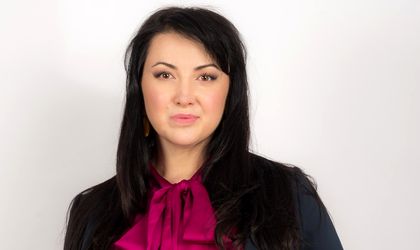 Irina Siminenco, Corporate Affairs Manager at Nestlé Romania, sat down with Business Review to talk about the company's commitment to sustainability both in Romania and at the international level.
By Anda Sebesi
What are the key sustainability projects being developed by Nestlé in Romania?
Nestlé's ambition in terms of sustainable development is to reach net zero emissions globally by 2050, through a transition to 100 percent renewable energy, the development of alternative packaging, innovation in recipes, and concrete involvement in activities that increase biodiversity and reduce the amount of carbon dioxide through tree planting, under the sustainability pillar called "Nestlé for a Waste-Free World."
Nestlé's sustainable development strategy is based on several projects, including awareness campaigns. One of our biggest community-based educational projects is "The Blue Planet is Counting on You!", a project initiated by the PRAIS Foundation in partnership with Nestlé Romania. The programme targets teachers, primary school students, their families, and all those who want to contribute to protecting the environment, through simple daily gestures.
What can you tell us about Nescafé Plan 2030, an initiative that aims to make coffee farming more sustainable?
The Nescafé Plan 2030 is meant to help drive regenerative agriculture, reduce greenhouse gas emissions, and improve farmers' lives. Nescafé will provide farmers with training, technical assistance, and high-yielding coffee plantlets to support their transition to regenerative coffee farming practices. The brand is investing over EUR 1 billion in the plan and this investment builds on the existing Nescafé Plan as the brand expands its sustainability work.
Can you provide some details about the company's policy on sustainable sourcing?
At Nestlé, our goal is to minimise our impact on the world's resources, doing our best to make sure they remain available for coming generations. To that end, we are operating responsibly, creating a positive business environment, and empowering our employees to make sustainable business decisions. Our approach is centred on farmers, supporting solutions that are right for their regions and crops.
Our Sustainable Sourcing team makes sure that the raw materials, the packaging, and the services we source have been produced in accordance with our Responsible Sourcing Standard. Our initiatives aim to protect and promote human rights and animal welfare while protecting and restoring forests and natural ecosystems that are critical to the sourcing of our ingredients. We have 540 sourcing specialists and more than 4,500 support staff who are assisting in the transition towards regenerative agriculture.
What are the objectives of the Nestle Cocoa Plan?
The main goal of the Nestlé Cocoa Plan is to contribute to better farming, better lives, and better cocoa. The plan, along with our Rainforest Alliance certification, allows us to take steps to address social and environmental issues and create a sustainable cocoa supply chain. We are committed to sourcing 100 percent of our cocoa through this plan by 2025. We also aim to provide training and resources to help farmers improve their crops, increase their incomes, and improve their lives. We make lives better by tackling child labour, empowering women, and improving education to help communities thrive, as well as making better cocoa by enhancing supply chain traceability and tackling deforestation.
What can you tell us about Nestlé's reforestation initiatives in Romania?
Globally, Nestlé is committed to planting 20 million trees a year, with Nestlé Romania being an essential part of this objective. In Romania, we planted 55,000 trees between 2019 and 2021 together with the Cozia National Park, and this year we've planted 20,000 acacia trees with the help of the Mai Mult Verde Association, as part of the Honey Forest initiative.
Carried out under the "Nestlé for a Waste-Free World" sustainability pillar, Honey Forest brings together all our afforestation projects as well as our education and awareness campaigns in schools and for the wider public, which map and promote biodiversity in Romania. We strongly believe in the role bees play in the local ecosystem and we direct our efforts towards helping them and supporting local communities of beekeepers, while contributing to the restoration of degraded soils and areas.