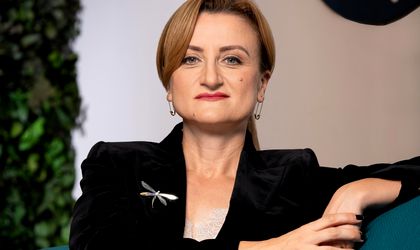 A double Bachelors' degree with more than 15 years' experience in 360 degrees communication and marketing projects. Trained and experienced professional in creating positive relationship, developing multidimensional communication strategies and managing to implementation complex communication issues for Multinational Corporations. Member of cross countries communications teams and projects, with international exposure and sound expertise in strategic communications activities from various industries, focusing on: public utility services, pharmaceutical, IT&C and banking industries.
BR talked with Ramona Dumitru, Corporate Affairs and Communications Director at Veolia Romania, about how the company adapted to the COVID-19 pandemic, the campaign Safe Is Simple!, real time marketing, as well as how the Apa Nova keeps its sustainability plan and how she sees the whole communication industry changing in the future.
By Romanita Oprea
How was, from your point of view, 2019 for Apa Nova's communication?
Last year was bountiful in regard to achievements for Apa Nova, but has also been marked by challenges, and the communication followed the natural evolution of the business, as was expected. We took a more applied approach to our communication, one that observes the main challenges we're facing as a provider of essential services, as well as focusing on our well-earned achievements: we won the Golden Award for Excellence at PR Awards, for Environmental Communication, and have received the Certificate of Excellence at this year's SABRE Awards for our "Happy Ending Stories" campaign.
Constant and transparent information and active involvement in the urban life of the city are activities we owe to the citizens of Bucharest. In the last two years, we have developed projects aimed at informing and educating consumers about the production process of potable water and the correct use of the sewerage system. The most notable could be the repositioning campaign "Your water, our responsibility", the "Happy Ending Stories" campaign, the informational campaign about the stages of drinking water production and the launch of the key special project – H2Out escape room.
Our long-term objective is continuing to build an organizational culture that is client-oriented. Quality essential services and the safety of our clients and teams are high priorities for Apa Nova and we are trying to transpose this in our communication, as well. Thus, from successful digitalizing initiatives to internal communication projects and continuous analysis of the dynamics our communities are facing, we are always looking to improve our work and innovate accordingly.
What was your plan for 2020 and how was it impacted by the pandemic?
COVID-19 has generated a complex situation, which has greatly affected most, if not all, areas of our lives: our health systems and well-being, lifestyle, economics. Thus businesses, leaders and brands had to tailor their communication processes in order to give people what they really needed to navigate this crisis: transparent and valuable information.
Perhaps this pandemic is one of the very few moments when we share a reality at such an extent, something we're experiencing collectively, which appeals to everyone's sense of responsibility to manage, as effectively as possible, the challenges imposed by the crisis.
We always kept in mind that Apa Nova provides vital and essential services to the community and it was our duty to respond promptly and with professionalism to the expectations. Ever since the beginning of the pandemic, we had a business continuity plan in effect with a communication plan, and the operational teams showed professionalism and dedication by being at the forefront and offering safe and high-quality essential services to the people of Bucharest, while being exemplary protected by their employer.
Regarding communication, we went from business-as-usual to crisis management on each one of the company's levels––from consumers to employees, authorities, partners and even suppliers. Given the complexity of the situation, aligning with the Group's procedures was essential.
In terms of internal communication, we used the usual internal information channels, intranet and online calls, and the key messages focused on the prevention and protection measures implemented by Apa Nova. Obviously, at a more extensive scale.
As for the external communication, we observed a 360-degree approach to keep our customers close and informed. In this case, the key messages focused on the solutions identified by the company for adapting our activity to ways that ensure the safety of both our customers and employees – from alternative payment procedures to reassurance that the water is and will always be potable.
Our messages will continue to be communicated in a transparent, informative way, a principle that is deeply ingrained in our company's ethos.
What were the first measures you took?
From a communication standpoint, the current health crisis has five stages: resolution, resistance, recovery, re-imagination and reform. These stages cover the critical moments, from the emergence all the way to the new world we will be living in after the virus will be contained. The duration of each stage can vary depending on the geographical context and the industry, and organizations can be found in several stages simultaneously. Because we are a utility company, our activity is vital for Bucharest's residents, therefore we need to adapt and provide our employees and customers with solutions designed to ensure their safety and protection.
In this regard, we have implemented Safe Is Simple!, a campaign with the main objective of reduction, even the elimination, of non-essential commercial contact between employees and customers, seeing that many of our commercial interactions can be carried out remotely. In order to continue our activity under these unprecedented circumstances, a joint effort was needed––we wanted to show our customers that we understand the challenges they may be facing and that they have our full support, but that it is also important to maintain a conscientious, responsible behavior and not contribute to blocking the economy by not paying their bills on time, especially if there are means to do so.
Of course, in order to do this, we relied heavily on technology, but we were also mindful of our customers who may not have access to digital instruments or are not tech savvy and we provided them with several offline channels.
Safe Is Simple! had some clear objectives, which we achieved – even exceeded – successfully: promoting digital payment instruments and alternative payment methods, reaching a number of 15,000 new downloads of the Apa Nova app, increasing the current user interaction rate within the app, and educating them on the functions and options within their reach. The campaign was developed in collaboration with Porter Novelli, our communication partner since the beginning of 2018, a partnership we started building on following a pitch the agency won in 2017.
At the same time, we have invested our efforts in internal communication and crisis management projects. We have complied with the safety and protection measures instituted by the authorities and we have ensured that the company's employees remain informed and up to date with the latest details and protocols. Throughout this period, the communication with the employees has been effective, correct and transparent, which helped the company navigate the health crisis smoothly.
How did you and your department, as well as the whole company adapted to the work from home system?
The safety of our teams has been a top priority, and where applicable we practiced home office working. It is our responsibility to make sure that the services we offer to our customers maintain their quality and dynamic under the new and specific working conditions.
For many, work is a significant source of identity. There is no recipe for success when it comes to the home-working system, especially under adverse circumstances, but we urged employees to follow the specialists' advice so that they can work in comfortable conditions and remain just as efficient in these difficult times.
In terms of communication activities, we have the advantage of flexibility and the ability to carry out the work no matter the location, especially thanks to the advanced digital communication tools. Yet, communication is part of the first line in such situation and we have been in the office, especially because we had the comfort of high security and sanitation measures assured by the employer.
Will some of the changes made in your way of working still be in place for the rest of the year?
While some people seem to grasp the meaning of the crisis and are ready to make the transition to the "new reality," others might feel overwhelmed by the uncertainty and worry about the future. For them, it is a real challenge to adapt to the new normal. We must be prepared to understand everyone's views and adapt our solutions accordingly.
No one knows for sure when and if the threat of the COVID-19 will disappear completely – specialists estimate that not for a couple of years. We went from the crisis phase to a state of alert via a very comprehensive communication of the new health and safety procedures and working procedures, including for our operational teams who are out there on the field.
Thus, even if we came out from the state of emergency and saw a gradual relaxation of the measures imposed by the authorities, it is important to continue to comply with prevention and protection measures to limit the spread of the virus. Maintaining a responsible and preventive behavior is crucial.
How do you think the communication will look after the pandemic?
In recent months, the tone of voice has changed exponentially, and the corporate language has taken on a slightly softer, more human form. Empathy, solidarity, closeness to the client have been the foundation of our communication processes.  The pandemic came with great challenges in terms of crisis management and we were all – as communicators – taken out of our comfort zone. We turned to crisis textbooks and, where it was permitted and appropriate, took an outside the box approach.
The good news is that the fundamental tools of effective communication still work. In this global pandemic, organizations, brands and leaders have been able to draw on a wealth of research, previous cases and experience to build resilience over time and even turn a crisis into a catalyst for positive change. But there was also a period in which we proved our innovation prowess and tested new communication models.
In the next period, it's important to demonstrate that this new approach is not a performance rooted in hypocrisy, but of a genuine, necessary change of vision. We need to further integrate this tone into the company's identity.
Paradoxically, the complex ways in which we connect with our loved ones and our colleagues are, in fact, leading to stronger relationships, and they also generate a new set of expectations from brands. Strong online "migration" gives organizations the opportunity to expand their offerings to larger and more diverse consumer groups as they use live streaming and other digital tools to build new communities.
Another factor that will fundamentally change the way the world of communication works is speed. During the state of emergency, companies have been assailed by questions from customers, the media and partners. In this case, even a single answer given too late – we are talking about a matter of hours, not days – could cost a brand in terms of reputation.
At a time when information is unavailable or inconsistent and people feel insecure about what they know; behavioral science says there's an increase in one's need for transparency, guidance, and finding the meaning of the current situation.
Apa Nova has applied this principle in communication with all our stakeholders. A rapid and effective contextual adaptation of communication was needed both internally and externally. The workload has increased quite a lot for both categories of public we address, but the goal was very clear: fast, concise and accessible information made available as soon as possible.
Were you forced to stop some campaigns?
We had to redirect our communication towards the activities required and permitted under the regulations dictated by the crisis. We also postponed some corporate events as the preventive safety measures did not allow their implementation. However, we were able to restructure, develop and implement other communication projects adapted to our customers' new and revised needs, as well as the market's requirements.
How important is for Apa Nova the real-time marketing?
We interact with our customers on every day basis. Being an essential and vital services provider, we are available 24/7 to our communities. In this aspect, nothing has changed; this has always been the way we operate. Our communication is direct and honest –– anything other than that is a lost bet. As previously stated, in the new context, momentum is a key factor in communication and marketing. It is important to refer to these interactions as ongoing conversations we have with customers so that the changes we make to our services are based on their real needs.
Last year you launched the campaign "Happy ending stories". How do you believe it changed people's perceptions and what were its main results?
The sewerage system in Bucharest has seen a lot of "abuse": waste such as hair, cooking oil, personal hygiene products, construction materials, household appliances, etc. thrown away irresponsibly. Apa Nova thus assumed the role of the educator and started this awareness campaign in order to help the citizens of Bucharest better understand the responsibilities that come with of living in a community and its benefits.
Through this campaign we wanted to start the dialogue on this subject in a way that is intriguing, yet relatable, and that makes us question our own behavior. Changing attitudes and generating responsible behaviors are two very difficult objectives to achieve, so the effects of such an effort will might not be notable immediately.
The online realm made it easier to follow the reactions of the public and we're proud to say they saluted the initiative and gave us positive feedback.
As I said earlier in the interview, we had the great honor to have this campaign recognized by the industry as well – we are proud to have received the environmental Communication Golden Award at PR Awards, and the project has been nominated for Best Balkan Award at this year's SABRE Awards.
What is Apa Nova's strategy for 2020 regarding the sustainability side?
Apa Nova's line of operations is inextricably linked to the environment. Therefore, the company is committed to minimizing the impact of its activities on the environment, by developing new technologies and providing examples of good practice. The involvement and support of our teams in social activities and long-term education of children and young people, in the spirit of environmental protection, are part of the company's social responsibility strategy.
For Veolia, and Apa Nova implicitly, protecting the biodiversity is a high priority. The company's activity is rooted in nature, and we are constantly observing and studying the interactions between the two in order to better understand and provide solutions to the problems biodiversity is facing.
At the same time, Veolia Group set out to reduce its carbon dioxide emissions by implementing nature-inspired programs (bio-indicators, green infrastructure, environmental management, etc.), its objective being increasing the awareness among employees, customers, communities, children and stakeholders about the company's activities and how these can be adjusted to protect the environment.