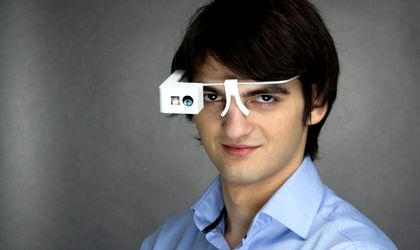 Cornel Amariei is a Romanian Inventor, Author and Entrepreneur, recognized by JCI as one of the 10 Outstanding Young Persons of the World and as one of the most influential 10 people under 30 in Europe by Forbes USA. Currently, Cornel is operating as Head of Innovation at Continental Automotive. There, he leads research projects aimed to create the products that will enhance the mobility of tomorrow, ranging from electric mobility, smart sensors, autonomous driving and connectivity. He is also the inventor of .lumen, a system aimed to restore spatial awareness to the blind. 
Cornel was a speaker at Business Review's MindChain conference – the biggest Blockchain-focused event ever held in Romania. We talked to him about his views on innovation and asked him what he thought about the buzz around emerging technologies like blockchain or artificial intelligence.
How do you define innovation? How can Romania become a more innovative country? What changes should be made in the education system to encourage an innovative spirit?
Innovation must make meaning. Innovating for money is wrong. Innovating just for the sake of it is even worse. Innovation must solve a problem. It simply means connecting something to something else, for the very first time.
Romanians are creative people! Due to our past and our lack of resources, we've developed a native ability to solve problems despite our precarious situation. But we're not so good at using creativity to create things that help us. We haven't had time, in 29 years, to grow a business culture. And that's why we have a country of innovative people, but not an innovative country.
I am glad to see more and more initiatives in this direction, such as startup accelerators like Spherik or coworking spaces (ClujHub, Impact Hub), and more events focusing on the business side. As soon as we have more people who are good at business we'll also be able to use Romanian creativity.
I think we need a community or even a place where you go when you want to do great things, and not just because you get the chance to do those things, but because it's a place where you get real help. And I may be working on something like this right now…
What do you think about emerging technologies – blockchain, AI – do they have the potential to radically change the world, as many have said? Which sectors do you think they could impact the most in the near future?
Artificial intelligence is a new important step, though it's wrong to say it's new since it was invented in the 50s – but now we have the resources to start using AI.
An example of this I really like comes from dermatology. Without getting into too much detail, there was a major project at Stanford where they contacted a few dozen dermatologists to ask them for photos and descriptions of skin conditions. Hundreds of thousands of photos were injected into an AI algorithm. This resulted in an app that helps people identify their skin conditions simply by uploading a photo. The system is able to tell them what's wrong better than most dermatologists. AI will help in many fields, especially by simplifying repetitive tasks or eliminating them altogether.
Now let's talk about what I call #buzzwords. New technologies come and go, and there have always been technologies that were very intensely discussed, and often they died within ten years. Now we have this huge #buzzword called blockchain. It's an encryption technology. People found a use for it in cryptocurrencies and that propelled it to superstardom. But I meet with lots of entrepreneurs in this field and I'm happy to talk to those who really understand blockchain. And I also meet others who try to convince me that people won't even be able to breathe without blockchain.
I keep away from #buzzwords – they're the type of things that have a spring, a summer and a winter. I'm not saying that blockchain will die off; I'm just saying that it's a little tool that's useful in some, but not many, cases.
Have you worked on projects that had these technologies at their core?
Definitely. AI is something we use a lot. We see our limits, that we can't create any algorithm, any custom system, and so on. AI allows us to automate a lot of the creative process.
Blockchain can do very little in that sense, though.
Should we be afraid of the rise of robots and automation? Will robots end up "stealing" our jobs?
300 years ago, the steam engine marked the beginning of the industrial revolution. What do you think was people's biggest fear? It was that the steam engine would steal their jobs. What really happened? A few types of jobs disappeared, but many others were created. The most important thing that automation has done was to cut out repetitive tasks and leave the more complex processes to humans.
The same thing is happening now. We're automating more stuff, even software processes. I'm happy to see the rise of this new field called Robotic Process Automation (RPA), with UiPath as its strongest player. I truly believe in the purpose of this technology.
As for automation, 90 percent of processes in factories have already been automated over the past 50 years, why are we suddenly afraid?
Eventually, some jobs, which are strongly based on repetitive work or data interpretation, will disappear. But new ones will appear.
Briefly explain how the Lumen glasses for the blind work. What's the current status of the project?
The idea came up accidentally. I was talking to a friend and we ended up saying the phrase "glasses for the blind". We did some research and realised that there were 40 million people with significant eyesight deficits and there was no scalable technical solution for them. It was enough to make us, creative people, start to work on it.
Human eyesight's main purpose is not seeing colours and not so much shapes, but distance. Once you lose your eyesight you lose the ability to understand the spatial characteristics of your environment. We used this idea as a starting point to develop a system that can assist with spatial recognition.
.lumen has three main operating stages. The first is to acquire the spatial characteristics of the environment by 3D scanning it using various types of sensors. In other words, we understand the distance to every object, its size, and the speed and direction of movement. We take all this information, process it in stage 2 and understand the most important aspects to inform the user about. Finally, in the third stage, the feedback stage, we represent the spatial characteristics of the environment through forehead vibrations. For example, if there's an object to the left of the user, we'll send a signal to the left side of the forehead saying how far the object is, its speed and its shape.
We're now about to start a new public testing. The sensor system is very sensitive to the environment – if it rains, snows or it's too sunny, all of these things can cause major errors and we've never been comfortable knowing that this could happen when someone crosses the street and the system can't detect a car, for example… Sensor technology has only provided a 90 percent reliability and we'll be ready to launch it when we reach 99 percent.
What are your sources of inspiration?
There are a lot of them, so I'll name a few, such as Dieter Rams for his view on minimalism and industrial design, Jon Bon Jovi for music and life mantra, Steve Jobs for vision and presentation, etc.
Another major inspiration were my parents. They are disabled, but they still managed to take care of my sister and I. That meant that I saw them working from 7 am to 11 pm every single day. When you see this from a young age, you're used to the idea that this is life: working and creating. And that stuck with me. I hope to be as ambitious as they are.
What does it mean to be the Head of Innovation at Continental? What does a work day look like for you?
Our general purpose is to create the culture that allows good ideas to emerge and bring added value. At the same time, I have my own innovation projects in areas like advanced sensor technology, new vehicles, autonomous driving, etc. I'm talking about innovation. What's important is that we do incredible things and these things will be revealed over the next few years.
My role? To make things work. I'm an intrapreneur. But I often joke that my role is "Senior PowerPoint Engineer" 🙂