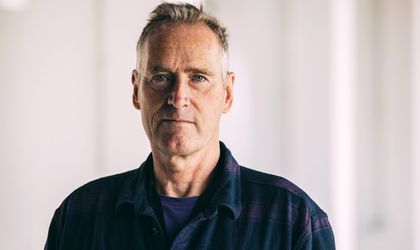 The first reality show produced by Max Original in Romania, in collaboration with Global Record, ONE TRUE SINGER, premiered last week on HBO Max. To mark the occasion, we sat down for a BR Exclusive Interview with Johnathan Young, VP Original Production, HBO Central Europe, to talk about the new show but also about the launch of HBO Max and the online entertainment  & streaming services market in general.
HBO Max was launched in March this year, please walk us through this transition and what makes the new platform stand out?
Our original productions go out under The Max originals banner. They have the HBO values in their DNA – originality, integrity, authorship. But they are aiming to superserve to local audiences. Meaning they are a bit more commercial and mainstream. HBO traditionally skewed rather male so we are thinking about how to appeal to a younger, female audience without alienating our devoted HBO fans. It's about expanding the brand, not pivoting.
Why does it stand out? Authorship. That's the key to all our shows. We would never want to lose that. But authorship means passion and integrity, which can be found in many diverse places. Our journey is to be more agile and open to great creatives who wish to partner with us on making special shows and be more diverse, broader and more inclusive. It's a journey we have started. But it's an evolution. That's what makes it so dynamic and exciting.
You were involved in several successful productions for HBO across Romania (Umbre and Valea Muta), the Czech Republic, Poland, or the Adriatic Region; how would you describe each of these projects, what made them different, and how would you compare these countries in terms of the production experience?
The inescapable allure of TV production is that it always offers new experiences/challenges/opportunities. Call them what you will. Yes, you gain some experience. But you never want to feel that you know how to do it or it would be boring. So every show is different. Every author is different. The ambition is different and the way we work to achieve the authors' ambition has to adjust. That's what keeps us fresh.
How would I compare the experiences? I would say that we haven't greenlit a show that we don't believe has the potential to thrill and excite the Audience. The HBO brand is the premium brand in TV and everyone wants to be involved in being part of the HBO experience. Filming Wataha in -15° on the Polish/Ukraine border is different from working with Oscar-winner Danis Tanovic on Success in Croatia and that different again from working with young actors doing a coming-out scene on Valea Muta in Romania. But I'm more conscious of the similarities. The dedication to being true to the characters and the story. The determination to get the best out of the filming day. The passion and love the teams pour into their work in every department. Not just script and direction. The lighting teams, the art department, costume and make-up all go the extra mile when they believe in the vision of the project. That's what's terrific. Being part of a great team. And indeed it's the same for everyone in TV production.
You also produced BAFTA-nominated TV shows for Channel 4 and BBC. What is the difference between producing shows for TV and producing HBO?
And won a Bafta at ITV (he laughs). There's not a huge difference, to be honest. The most creative experiences have been in the most streamlined environments and HBO is very lean and streamlined. Channel 4 was a very small team and our success at ITV was when we had a very short line of communication to the top. What's great is when you have a relatively small group at the core of the creative process with a clear vision and a lot of trust. Which I think is the key to HBO's ability to deliver on its mission statement.
HBO Max has announced the launch of a new talent show – One True Singer, the first talent show produced by Max Originals in Romania. What can you tell us about this project?
One True Singer has everything I described above. It's the vision of ace music producer Stefan Lucian. He saw that many very talented singers took part in singing competitions but didn't go on to have careers in the business. Whereas his company was able to take great young talent and help them become enduring stars. Why? Because Global Record puts a support team around the talent and helps them master all the extra skills they need to survive in the competitive world of music. Meaning – how to create and manage their image, how to manage social media, how to develop their stamina, how to be collaborative without losing their vision. And so on. His pitch was to create a competition show that tested young singers' ability to master these skills to find the one true singer.
In addition to the competition element, he offered us a mix of reality show and documentary. OTS is a very authentic glimpse behind the scenes of the music business. We meet the best music producers, choreographers, photographers, radio producers etc.
For the audience it has the drama of watching aspirational singers stretch themselves and find their voice and it also lets them see what it's really like to be an artist. It's a terrific pitch. But most important was this. Lucian himself promised that he would deliver. And he did. He was on set for 18 to 20 hours a day. He managed every aspect of the production, stepping in to direct when needed. If ever there was a passion project, this was it. And it shows. For this reason, I think it's totally HBO Max and a show we are incredibly proud to have been a part of.
Delving into the extended online entertainment and streaming services market, what are the latest trends of this relatively young industry and where do you think they are heading?
I think the opportunities for smaller countries to have a chance to break out will grow. A global audience is more open to global content. English language is likely to remain prominent but we will see more and more breakout hits from different countries. At the same time, the amount of choice means we have to work harder to be noticed. So I think we will need to be more attentive to the wishes of our audience to have big stories, big characters and big hooks. And of course, there will always be the outliers. Those brilliant shows that defy expectations. It's a very diverse landscape.
Can you share some insights about other projects you will be involved at HBO Central Europe?
We launch a superb range of shows from Central Europe this spring. In addition to One True Singer we have Ruxx from Romania. A very contemporary, colourful drama that has love at its core but touches on many other issues – gender, corruption, turning 30 and finding your place in the world. From Hungary, we have The Informant, an 8 part drama about a student in 1985 who gets blackmailed into informing on his fellow student. He hates himself for it – but he's rather good at it and he can't help getting sucked into a double life. The tone is Animal House meets The Lives Of Others. Anarchic and bold but with a very present sense of danger. From Czech Republic we have Czech it Out. On the surface it is a foodie tour of the Czech Republic but why we love it is because It's really about an absentee father trying to build a connection with his 14-year-old daughter. And that relationship so gently encapsulates so many challenges of the modern family. And from Poland we have The Thaw. And beautifully written noir thriller that builds on the Scandi shows we love but adds new twists and embodies a specifically Polish sensibility.
What we are most proud of is the diversity of the offering. OTS and The Thaw may look and feel very different. But both have strong authors with a passion and vision and working with them, and we at HBO have been able to help them put their vision on screen and offer something really special to our subscribers.