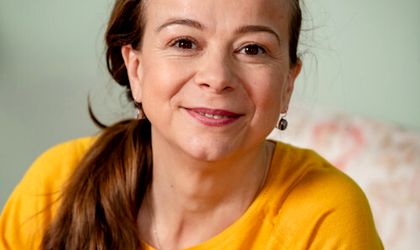 Romanian PR's top accolade, the Romanian PR Award, celebrates its 20th anniversary this year as a daring and stubborn project that has managed to bring together under the same rooftop communicators, valuable competitors, enthusiasts, and hundreds of PR professionals. Business Review started a series of interviews with top PR personalities that have been working in the industry for more than 20 years and that made a big impact on it. How it was and what is expected from the next chapters, you are about to find out.
BR sat down with Raluca Ungureanu, communication manager at Asociatia Berarii Romaniei, and took a closer look at the industry and its changes during these years, as well as how she started her career and the most important decisions she took. With over 24 years' experience in marketing and communication industry, working for brands in FMCG, healthcare, retail, banking and NGO sectors, her expertise covers both corporate and brand communication, marketing strategy, event management, media and influencers relations, stakeholders engagement, content management, digital and social media, change and crisis management, public speaking, CSR, internal communication and employer branding.
Raluca is following Raluca Zamfir from RAN Communication, interview published here, Alex Păius from IMAGE PR, Sorana Savu from Premium Communication, Oana Bulexa from MSL The Practice and Hortensia Năstase from Lowe Group.
By Romanita Oprea
How would you characterize the evolution of the Romanian PR industry?
An evolution at the speed of light, not leaving too much time to internalize all the changes. The transition from the Gutenberg civilization to the one initiated by Marconi – from reading to audibility – took 500 years. Then, only 50 years to the appearance of television and other 50 years to the explosion of the dotcom bubble. These latest fast technological changes have transformed PR dramatically – from cutting out clippings from newspapers and gluing them on the printed evaluation reports for our clients in the 2000s to listing the number of readers and post clicks in today's campaign evaluations.
How was it when you started?
PR and advertising were considered an Eldorado, especially for those outside the industry. A chaotic Eldorado, but still an Eldorado. With nights spent working on campaigns and pitches, strategical or tactical decisions constantly changing, but also numerous occasions to celebrate success alongside cool people. A very vivid and tantalizing industry.
What determined you to choose PR as a career?
An optional course taken during college. I graduated Journalism but I had realized from my very first year there that journalism is not for me, at least not as I knew it from my colleagues working in this field. Journalism seemed to me a hard job unsuitable for a delicate being as I perceived myself back then. A misconceptionJ
What were its most interesting years, in your opinion and why?
The 2000s and the 2020s for sure! Stressful, but years of rapid growth.
What were the main changes in the last few years?
The new and disruptive crisis, unimaginable several years ago, transformed and will continue to change PR's core: the sanitary crisis, the war happening right at our boarders, the energy crisis.
How would you characterize the industry right now (creativity, budgets, strategy, etc)?
A very subjective industry in terms of how we evaluate the work of people. And here I include all the creative and communication industries.
What would you change in the industry and why?
As a new year's resolution, I'd wish more stability. PR is perceived as a very changeable domain, thus inconsistent, unreliable with all the resulting consequences. We have to work harder on positioning our industry in a brighter light. To make PR for PR.
What were and still are your main goals for your current position?
To make beer great again! Beer is considered food and there are a lot of studies showing its benefits for our health if we consume it in moderation. I repeat – in moderationJ
What changed through the years for you and your perspective on PR? Why?
The industry has become professional, but it still has a lot to improve.
What are the main challenges right now in your opinion, in the industry?
The crisis I have mentioned. Plus the workforce crisis.
How are you surpassing them at Berarii Romaniei?
We adapt on the go, we adjust the strategies and tactics, but always keep in mind the goals of the beer industry.
What still inspires you and gives you drive and joy in PR and why?
The People. Positive and kind people that move things forward.
For the Box:
Your best year in PR so far and why
My first years in PR. I remember the many mistakes I made, but also the takeaways, everything I learned from these mistakes which in the end are the most memorable ones – the stories you can later tell your grandchildren.
In terms of success, I would refer to some dear and meaningful environmental projects I worked on in 2008 & 2009 and some others in 2020 to sustain the Horeca sector.