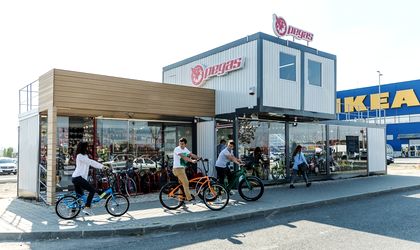 Pegas opens on Saturday, October 27, a new concept store in the capital. The newest store is built in the Baneasa commercial area, following a unique architectural plan, consisting of 6 containers placed on 2 levels with a total area of ​​120 square meters.
This is, in fact, an older dream of Pegas founders, to make a retail store keeping the proportions of a shipping container. They chose this project as an experienced architecture studio, Matius Studio being the first team in the Romanian market specialized exclusively in retail design.
The Concept store in Baneasa wanted to be not only a store with a unique design but also friendly to its customers. They have easy access to products, they can test them and so can choose what suits them best. In addition, on the 1st floor of the Baneasa store there is a service where customers receive advice and help, pre and post guarantee.
This year Pegas launches for the first time and a range of winter products to be found in the new concept store. Among them: Sled Dogs, unique products in the world that perfectly combine comfortable ice with a unique ski base with steel snowflakes for snow. And during the winter, the store could turn into a social hub, where customers can enjoy a good coffee or a boiled wine.
Next week, in Brasov, the opening of the first Pegas franchise, which complements the network of national stores, is also taking place. Among the new bike models available in the store at the foot of Tampa, there is also the Grey Pro Road, the highest level equipment and top-of-the-range bike equipment.
In 2018 means Pegas opened 4 new stores: Constanta, Suceava, Cluj, Baneasa, reaching 8 stores across the country and a 40 percent increase in sales, one of the most appreciated models being the folding bicycle with the most good folding system available on the Romanian market.