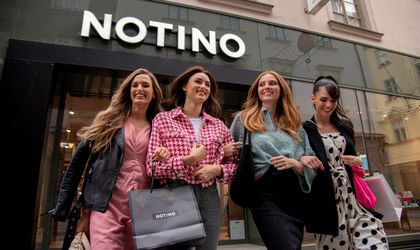 Notino, one of the largest online retailers of perfumes and cosmetics, starts the Black Friday sales on Monday, November 8th. For three weeks, the online retailer will have the best offers and discounts both in the online and physically store, and also on the mobile application, thus offering more flexibility on discovering the new deals.
Black Friday is the biggest and busiest shopping event of the year worldwide and marks the start of the Christmas shopping season. Last year in Romania, on Black Friday, Notino had a 263% increase in daily orders compared to the yearly average.
At Notino, the Black Friday sale is always the best time to score amazing deals on your favourite beauty buys from selected make-up brands like MAC Cosmetics, NYX, skincare: Clarins, Clinique, KORIKA, and perfumes from Atelier Cologne, Yves Saint Laurent.
As usual, this year, the retailer offers to its customers enough time to enjoy the Black Friday event and kicks off the most anticipated discount campaign of the year on November 8th, with up to 40% discounts on popular brands. Even more, consumers must be ready to move their favourite products from the wish list to the basket, because there will be another week of 15% discounts on the entire category of cosmetics: skincare, make-up, body care, haircare, followed by an entire week with free shipping without limit, until November 28th, tree weeks of amazing deals.
During last year Black Friday season, Notino registered 140 000 orders in a single day, a record for the retailer. In Romania the golden hour where the most of the orders were placed was between 10 am – 11 am, where about 155 products were sold per minute, meaning 2,58 products were sold on every second of that hour. The top 3 most popular shopping categories were: makeup, perfumes and hair care, the products preferences being foundations, women perfumes and shampoos.
These amazing results show how appreciated is the Black Friday event and how eager are the consumers when it comes to discounts offered by Notino. In addition to the discounts, the beauty seller offers a wide range of products, with a large range of benefits, like 90 days for returns, same prices in stores as on the website and free delivery over 250 RON.
A.M. Filip