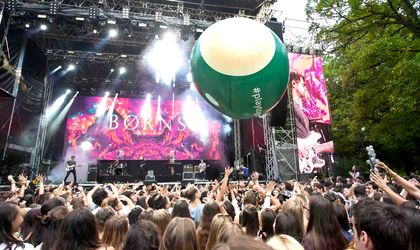 The participants at the sixth edition of the annual festival Summer Well ,set at Stirbei Domain in Buftea, were filmed, for the first time in Romania, by cameras placed on a super-dimensioned ball. The activation for the Jacobs brand was implemented by the agency Minio Studio, as part of the communication platform "Vara ai mai mult timp alaturi de prieteni" (In the summer you have more time alongside your friends).
The permanent activation took place at the two Jacobs stands. At the first one they could create 360˚ selfies that they received back as a coffee cup. At the second Jacobs stand, there were two baristas that prepared coffees according to everybody's preferences.
Over the two days of the festival, 1,200 glasses with 360 pictures were created and over 2,000 coffees offered. More than 3,000 people interacted with Jacobs in the activation area. The event's movie can be watched here.
Minio and Jacobs started their collaboration this year when the agency won the pitch for the integrated campaign Hot&Cool.
"We proposed ourselves to bring people together around a cup of coffee and to capture their happiness and the authentic enthusiasm," said Vlad Ifrim, Brand Specialist, R&G.
The people that worked on this campaign:
The Minio Studio team:
Ioana Mucenic, CEO
Paul Cotor – Head of Creatives
Andreea Bunga – Senior Account
Ana Achimescu – Head of Accounts
Marius Cioroaba – Senior Copywriter
Florin Dobre – Video Designer
Roxana Crihana – Trainee
Raluca Chivu – Trainee
The Jacobs team:
Vlad Ifrim, Brand Specialist R&G
Andreea Budau, Category Manager
Ana Stan, Media Specialist
Romanita Oprea