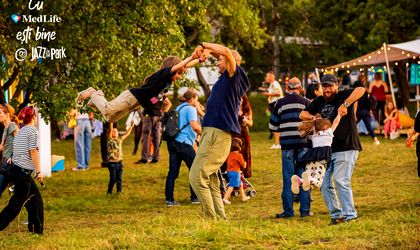 MedLife, Romania's largest private healthcare network and the leader in the field, played an important role this summer in the well-being of the country's most popular music and cultural festivals, attended by over 360,000 people.
With an active participation in major musical events such as Electric Castle, Summer Well, SoNoRo Musikland Festival, Smida Jazz Festival, Jazz in the Park, but also in other fields, such as theatre – Sibiu International Theatre Festival, book-trailers –Boovie, International Book-trailers festival or Râșnov International Film and HistoriesFestival, MedLife reinforced its commitment to make Romania better together.
Under the motto "With MedLife you're feeling good @the festival", the leader in private healthcare has provided memorable experiences and high-quality medical services, creating an atmosphere of inner comfort and well-being and promoting a holistic approach to wellness.
"Because of their diversity, festivals are a great platform for cultivating a united community, stimulate the local economy and promote a sense of pride for the place we live in. Apart from their impact on society, the moments of leisure and fun are essential for the emotional balance of each and every one of us. These are the reasons why MedLife is and will remain an active partner in taking care of festival lovers", said Ina Bădărău – Ilie, Communication Director at MedLife.
Well-being is based on optimal physical condition
MedLife reiterated its promise to have a significant impact on the health of Romanians, promoting a 360-degree approach to wellness and ensuring that participants always remain in very good shape with general nursing, massage, themed workshops, very useful within events of this magnitude, as follows:
1.​Free medical services. Over 400 festival lovers benefited from medical services at the mobile medical clinics brought to Electric Castle and Summer Well. The medical team provided support to participants for conditions such as heat and sunburn, allergies, ankle sprains, dehydration, sunstroke, muscle contractions, laryngitis, high blood pressure, ear infections, joint pain, headaches and others;
2.​Therapeutic massage. Over 150 people chose the massages offered by RelaxLife specialists in order to restore mobility and stay fit for fun;
3.​Well-being workshops. MedLife's top doctors along with experts in various fields conducted 10 workshops at Electric Castle and Summer Well for an excellent physical condition. Over 400 participants received valuable information on responsible drinking, correcting body posture, stretching techniques and breast cancer prevention;
4.​Free first aid courses. Over 50 volunteers from the Râșnov Film and Histories Festival received first aid training for proper protection and optimal intervention in case of emergency;
5.​Discount vouchers. Festival lovers who participated in MedLife activities received around 1800 discount vouchers for MedLife laboratory tests or free access to HomeClass online fitness, pilates and therapeutic gymnastics sessions.
6.​Well-being kits. Over 600 kits were awarded to festival lovers consisting in free health products.
In addition, for those eager to check their well-being, MedLife has also prepared two medical test packages: Festival Vibe and Festival Joy. In order to receive a 25% discount for one of the two packages those who attended Electric Castle, Summer Well, Smida Jazz Festival and Jazz in the Park can show their festival ticket at the reception desk in any of MedLife's clinics and collection centres across the country. The campaign is available until 30 September and each festival lover can benefit from a one-time discount.
Well-being comes with a good mental condition
MedLife gave festival lovers the opportunity to meditate, to better understand their feelings and to enjoy unique moments at the festival through various activities, including:
Special mirror systems with various functionalities and effects reflecting not only the physical features but also the emotional states of the festival lovers, promoting self-awareness and self-confidence. Thus, over 6000 festival lovers had their photo taken with the MedLife symbol represented by a heart made of mirrors and LED lights, and 5500 people saw their own reflections in a form similar to the X-rays at Electric Castle and Summer Well;
Lounge area with puff chairs and phone chargers where around 10,000 people relaxed at Electric Castle, Summer Well, Smida Jazz Festival and Jazz in the Park;
An instant joy workshop held by a psychiatrist and a photographer at Electric Castle, where 45 people learned about the differences between medical conditions and a person's normal experiences in relation to external factors, as well as methods of coping with stress through photography.
Hobbies fuel our well-being
Having hobbies is an endless resource of personal satisfaction and fulfilment, bringing joy and having a positive impact on a person's overall psychological state. In addition, hobbies can lead to the release of endorphins and other well-being-inducing chemicals that reduce the risk of stress-related illnesses.
That is why, MedLife has spent this summer season close to the enthusiasts:
– Music enthusiasts, covering a wide range of musical preferences: Electric Castle, SoNoRo Musikland Festival, Summer Well, Smida Jazz Festival, and Jazz in the Park;
– Performing arts enthusiasts, by attending the Sibiu International Theatre Festival (FITS);
– Reading enthusiasts, by supporting the Boovie, International Book-Trailers Festival, that suggests a new method of approaching books, by turning them into book-trailers by teams of students, coordinated by a teacher;
– Film and debates enthusiasts, participating in the Rasnov Film and HistoriesFestival. Among the debates we mention "Natalitate 2.1.", held by MedLife and moderated by Marina Udroiu, attended by about 70 people.
Well-being is closely related to where you are
MedLife joined festival lovers in 17 outstanding locations across Romania, honouring cultural heritage and offering various experiences from Cluj to Sibiu, Brasov to Buftea.
It also encouraged the exploration of the natural beauties through activities such as the Heart Tour, organized within the Smida Jazz Festival, attended by more than 60 people eager to go on guided tours in the Apuseni Mountains and take pictures reflecting their well-being.
MedLife continues to be a reliable partner for the well-being of Romanians, providing medical services at the highest standards and supporting personal and community development.