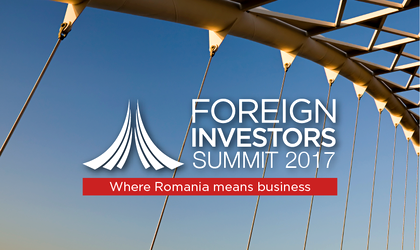 Business Review magazine announces the fourth edition of the Foreign Investors Summit, the most complex B2B event dedicated to Romania's competitiveness, taking place between October 31st and November 2nd at the Sheraton Bucharest Hotel.
Romania has championed economic growth in the European Union, expanding by 5.9 percent in the second quarter of 2017, making it one of fastest growing countries in the region. The foreign direct investments in Romania reached close to EUR 4.1 billion in 2016, which was an increase of 18 percent year-on-year and the biggest amount from the past eight years. With Romania's ambition to join the Euro zone and further integrate itself in the Union, we look at ways in which the country could become even more attractive for investors in the years to come.
The Summit will explore different ways in which the private sector and public authorities can further integrate their cooperation to secure the country's growth story going forward.
See the event's agenda here and don't miss the early bird discounts! For the latest updates join the event on Facebook. 
Over the course of 3 days, officials, experts, investors, diplomats and companies' leaders will engage in a constructive dialogue about the outlook of the business environment in Romania. By looking at some of the issues that hinder the accelerated development of the economy, the heads of large companies will make recommendations for improving the overall climate for doing business in Romania. And their voice will be heard directly by policymakers.
Day 1, October 31st : Country Strategy
Panel discussions, debates and moving-forward notes from decision makers, major actors and officials focusing on one main topic: improving how business is done.
Day 2, November 1st : Pillars for Growth
Highest level representatives from the most active industries will share case studies, future plans, opportunities to learn and cooperate across markets.
Day 3, November 2nd : Game Changers
Traditional business models are redefined and adapted to the fast-paced evolution of technology and digitalization. What can we learn from these game-changing stories?
The Foreign Investors Summit has become an exceptional platform to share ideas, seek new business partners and find out more about the trends that shape both the local and international economies.
More information about the agenda of the event, topics of discussion and speakers can be found on the event page.
Those interested in participating at the Foreign Investors Summit 2017 can register online or directly by phone at +40 31 040 09 31, or email events@business-review.ro.