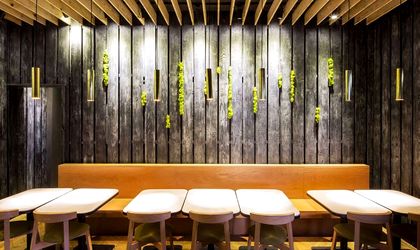 More than 600 architects and industry professionals participated at 2018 Annual Bucharest Architecture awards ceremony. The theme of this edition focuses on the debate on the various situations encountered in the professional practice of the Bucharest architect, on their relations with the local authorities, on the construction environment and on the central point of view of Bucharest as a place of negotiation.
The 2018 edition presented 233 projects enrolled in the competition, with the largest number of projects submitted to the interior architecture category. Over 70 projects of Interior Architecture inscribed this year in the competition certify the growing appetite for the interior design of Bucharest, but also a real process of educating the public through public projects such as horeca.
The prize in category was given to the Lama Arhitectura architectural office for the Edo Garden restaurant.
For the "Architecture of the dwelling" section, 20 projects were submitted, two of which won the "Section Award" with an equal number of votes. Archbishop Raluca Visinescu snd Archbishop Irina Wrenn received the "Holiday House" award, located in the village of Magura in Piatra Craiului Natural Park and ADNBA for the West 40, a community of 20 double-level and half-level flats.
"We want to encourage the appetite of architects and developers for buildings that have a quality architecture. We also encourage them to pay special attention to energy efficiency and sustainability, a direction that we will have to follow for over a year and a half ", explained Emil Ivănescu.
This year, 12 projects were submitted to the "Architecture, conversion and restoration" section, the award being awarded to Razvan Barsan + Partners team for the building located on 46, Catargiu Blvd.
"Restorations are extremely difficult to accomplish, stretch over a fair amount of time, and require serious investment and a skilled workforce. We are glad to see such a large number of projects registered in this category and we hope to see as soon as possible examples in the public space made by the local authorities in the buildings belonging to them, " Emil Ivănescu concluded.