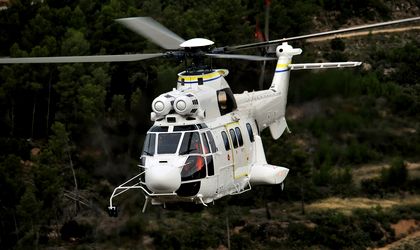 The first "Made in Romania" H215 helicopter could come out of the Final Assembly Line in Brasov in 2018. The plant in Ghimbav will employ 350 people when it reaches full production capacity.
The H215, part of the Super Puma family, has a twin-engine heavy rotorcraft and features multi-function digital screens and an advanced 4-axis autopilot which provides flight envelope protection, precision and stability.
On October 4, the Spanish Air Force took receipt of its first H215 in a ceremony held at the Airbus Helicopters plant in Albacete. The purchase was negotiated in July by the Spanish Ministry of Defence, through the NATO Support and Procurement Agency (NSPA).
The aircraft carried out final test flights at the Albacete plant on 22 September, where it was painted and fitted with specific mission systems enhancing its Search and Rescue (SAR) and Personnel Recovery/CSAR missions.
"H215 is the perfect acquisition for any modern air force. Spain's decision to buy the helicopter which we will be soon producing in Romania confirms the European value of H215 helicopter and paves the way for other air forces to upgrade their capabilities. We are looking forward to starting H215 production in Ghimbav and we hope that Romania will be acquiring the first helicopter produced by Romanians", said Serge Durand, General Director Airbus Helicopters Industries who is leading the operations in Romania.
Interested in the local investors' performance?  We'll be revealing case studies, future plans, opportunities to learn and cooperate across markets at the Foreign Investors Summit 2016 – Where Romania means business – November 1-3, Bucharest.
The new helicopter will enter into service straight away. 
The Ghimbav plant opened on September 13. Airbus Helicopter inaugurated Airbus Helicopters Industries' new production site in Brasov, in the presence of French President Francois Hollande and the Romanian Prime Minister Dacian Ciolos.
Georgeta Gheorghe