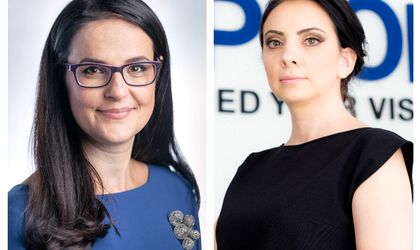 Epson launched on the Romanian market 28 video projectors with smart functions, such as gesture control, split screen capabilities and remote work mode. Epson already sold 500 units of the models it launched today.
The Romanian subsidiary of the Japanese electronics giant launched four new series of video projectors designed for the corporate sector, for SMEs as well as for the educational sector. Series EB-1400, EB-600, EB-1700 and EB-2000 offers images using 3LCD technology and smart functions developed to be compatible with mobile devices and the collaborative work environment of the business environment.
"We are launching not less than 28 projectors in four series targeting corporations, SMEs or schools. With such an extended portfolio, any client will find with us the right model, regardless of requirements. Innovation is part of the Epson DNA and, with the new range and the new technologies, we will maintain the market leader position in 2017 as well," Epson sales & marketing manager Simona Decuseara said.
"We maintained our position of leader on the market of video projectors because we constantly brought on the market new technologies and a wide offer of models," Decuseara said. Sales of interactive projectors are expected to grow in the future", the Epson sales & marketing manager told BR. From the newly-launched series, the most popular models are expected to be the 4000k for well suited for large meeting rooms, and university classrooms, she added.
According to Decuseara, sales of projectors to the corporate segment saw the biggest growth in 2016, followed by devices for home use, and education. The most popular series was the EB 1900 series, she told BR.
Alina Silvestru: Projectors can shorten learning time
"Using projectors in the classroom can have a long lasting impact and can transform the learning process. Moreover, using projectors shortens learning time for students" Alina Silvestru, Epson Marketing Specialist Epson Romania&Bulgaria said during the event. However, as Decuseara explained, sales of video projectors to be used by the educational sector are slow, especially in the case of schools, as the Romanian education sector os connected to public funding. "With universities is easier," Decuseara explained, "but with schools it is not so easy, as the system is centralized."
The models launched today on the Romanian market were first presented at the 2017 Integrated Systems Europe (ISE), Decuseara told BR. Although they represent a big chunk, the launch of 28 models at once is meant to renew Epson's corporate and education lineup, and not fully replace it. Other markets will also see this type of launch, she added.
Out of the four series launched, the EB-1700 and EB-2000 are designed for efficient full HD presentations, with a good video quality, for companies that need ultra-portable solutions or models with advanced functions such as network sharing. In particular, the EB-1400 series is adapted to modern work environment and allows for remote communication between co-workers via Skype calls, for instance. The EB-1795F model, for instance, is easily transported due to its practical size, which easily fits a handbag. Its smart features, such as screen fit and NFC function for a fast connexion with smart devices, allow it to be prepared within a very short time for presentations. The EB-2265U series combines features, making it appropriate for both the business sector and the education sector. The EB-600 series includes short throw projectors that offer increased interactivity and connectivity functions, due to touchscreen functions and two interactive pens that allow users to get involved by writing or typing on the images projected without using PCs or mobile devices.
Last year Epson Romania launched several laser projectors and high-end home cinema models. Epson is an original equipment manufacturer, producing over 15,000 units a day using original technology.