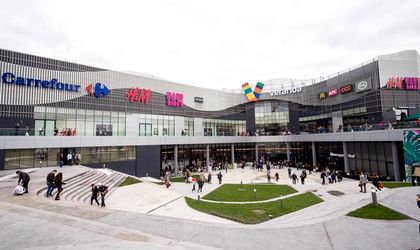 CEC Bank and Veranda Mall signed two financing contracts totaling EUR 34 million, aiming to refinance the previously contracted credit for the development of the Veranda Mall project, as well as financing the expansion and modernization of the shopping center.
Both funding rounds were provided in the form of investment credits for a period of 15 years. Veranda Mall was opened on October 27, 2016, with a Carrefour store anchor and 100 other stores, 1,200 parking spaces and a food court area. Currently, the shopping destination enriches its tenants' portfolio with the Decathlon and World Class brands, and will open a cinema in the spring of 2019.
"Thank you for the trust of our new partners – CEC Bank. Together, we will continue to develop Veranda Mall, add a cinema, bring new stores and develop the Obor area. Veranda Mall is a soul project with a positive impact on the job market and the modernization of District 2. The collaboration between CEC Bank and Veranda is a quintessential example of the support for Romanian entrepreneurship provided by the bank with the longest tradition in the country," Andrei Pogonaru, owner of Veranda Mall, added.
Veranda Mall is the first proximity shopping center in Bucharest, developed by Professional Imo Partner (formerly Prodplast Imobiliare) in the Obor area, inaugurated on October 27, 2016. The project has a total area of ​​nearly 30,000 sqm of leasable area and a green area of ​​15,000 sqm.