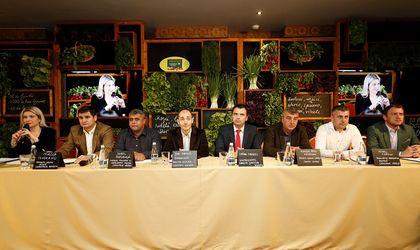 Carrefour group launches the Agricultural Cooperative Varasti, the first one founded by a retailer, with a production of 5,000 tonnes of vegetables on 60 hectares (out of which 15 hectares of solariums). The cooperative brings together 80 families of farmers from Varasti.
The clients can find the products of the cooperative in the entire network of the retailer across Romania.
"We developed this project to be a sustainable partner for the local agricultural producers and qualitative products supplier for our clients. We chose Varasti due to the vegetable pool recognized in the area for its qualitative products, but also for the experience that the producers from there have from generations. We want that small family businesses to continue to develop and continue the tradition the agricultural crops," says Jean-Baptiste Dernoncourt, CEO Carrefour Romania.
Carrefour built in Vacaresti a warehouse of 300 square meters, where local producers can deposit them. From there the vegetables are transported to the central warehouse and distributed to Carrefour stores all over the country.
"One of the biggest challenges for the Romanian farmers at this moment is the lack of logistics, the organization and the market that can take over the production for 100 percent. The Agricultural Cooperative Carrefour Varasti is the answer to this question as it allows us to focus on crops, productivity and products quality. Carrefour is responsible for the rest. I want our example to be followed by other producers from other area of the country," says Costel Buturuga, founding  member of the Agricultural Cooperative Carrefour Varasti.