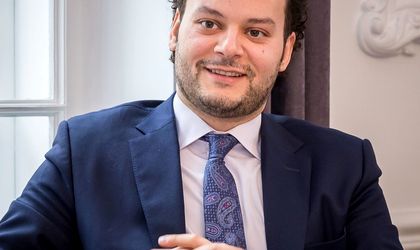 With a financial-banking professional background, Fady Chreih, CEO of Regina Maria, moved into the healthcare sector and managed to make the private healthcare network Regina Maria one of the largest players on the market.
Anda Sebesi
Fady Chreih started his career as a banker, working on a pilot-project within the Banca Transilvania SMEs division. He spent seven years at the bank, where he also held the position of manager of the medical division. In 2011, Advent International, the private equity fund that bought Regina Maria, convinced him to be part of the private healthcare network's executive management team. In 2013 Chreih was made CEO of the company, since when Regina Maria has been front page news for its expansion strategy for the local market.
Banking on expansion
Last year the company was involved in significant transactions that made it one of the most dynamic players in the sector. The takeover of Bucharest-based Ponderas Hospital, a medical unit specialized in metabolic and bariatric surgery, was by far the most significant move for Regina Maria in 2016. According to the CEO, through this acquisition, Ponderas will become the biggest hospital in the company's network. Ponderas has treated over 250,000 patients in its policlinic and hospital and has carried out over 7,000 bariatric interventions.
In March last year Regina Maria closed a EUR 15 million deal to lease a 7,000 sqm private hospital in Cluj-Napoca. The hospital, which will be built to suit, is due to be finished in the first half of 2017, and will become the network's fifth hospital. This will be Regia Maria's largest investment outside Bucharest yet. The new regional medical center will offer a comprehensive range of medical specialties in the domain of minimally-invasive surgery including: gynecology, general surgery, pediatric surgery and orthopedics. In addition, the hospital will have a maternity ward, an imaging center, an integrated medical analysis laboratory, a multi-disciplinary outpatient room and an emergency room. It will generate some 300 jobs.
EUR 15 million – The investment made to lease a 7,000 sqm private hospital in Cluj-Napoca
In addition, the company continued its expansion in Transylvania by opening the first medical campus in Targu Mures, following an investment of EUR 1.7 million. The new campus has a surface of 900 sqm and comprises 14 medical offices and over 15 medical specialties, with a team of 22 doctors. Staying in western Romania, Regina Maria took over the Dr.Grigoras medical center last year, after having opened its own clinic in Timisoara at the end of 2015. The Dr. Grigoras center employs 70 doctors and has over 21,000 corporate patients. The company reported a turnover of EUR 1.5 million last year. "Eight years ago when we entered the Cluj market and then Brasov, Transylvania became an important strategic area for the Regina Maria network," said Chreih.
Its nationwide expansion continued in 2016 in other regions too. Three years after the opening of the first polyclinic in Pitesti, Regina Maria inaugurated a new polyclinic as a result of a EUR 700,000 investment in mid June.
Chreih says that Regina Maria is continuing to focus on growth after expanding the business organically by 20 percent in the past three years. He adds that the company had a 20 percent organic growth last year which would be further supported by the acquisitions the company has made since. The CEO noted that the firm has also started to sell health prevention packages and that 10,000 people, mainly in Bucharest, have paid for this service.
Private healthcare network Regina Maria was sold in 2016 by investment fund Advent to private equity firm Mid Europa Partners, in one of the biggest deals in the local healthcare market. In total, the company currently manages 365,000 subscription packages that generate around 40 percent of its business. It has over 3,000 employees and operates a network of 29 units across the country, which includes four hospitals and two maternity wards.