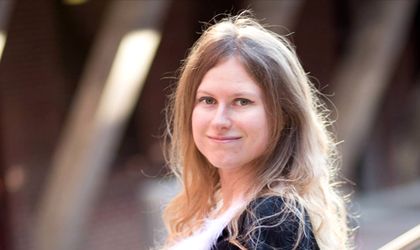 Luba Elliott is a curator and researcher specialising in artificial intelligence in the creative industries. She is currently working to educate and engage the broader public about the latest developments in creative AI through monthly meetups, talks, workshops and exhibitions at venues including The Photographers' Gallery (UK), Victoria & Albert Museum (UK), Seoul MediaCity Biennale (South Korea), MIT Technology Review (US), NeurIPS Conference and Impakt Festival (Netherlands). Her Creative AI London community includes 2,000+ members. She has advised organisations including The World Economic Forum, Google and City University on the topic. She is a member of the AI council at the British Interactive Media Association.
Luba will be a speaker at MindChain, one of Business Review's flagship events of 2019 and the biggest event focused on blockchain and AI ever held in Romania, taking place on February 21-22 in Cluj-Napoca.  
In what ways is AI being used in the creative industries? Which art-related AI tools do you find as being the most advanced and useful at the moment?
AI is being used for a variety of tasks in the creative industries, most frequently to generate images, texts or sounds from data, but also to explore how recommendation algorithms and facial recognition techniques influence our society. Artists may find the Wekinator or RunwayML useful.
What are some of your favourite projects involving AI and art?
There is so much great work happening around AI and art these days, it is quite difficult to choose! Saying that, I really enjoy the work of Roman Lipski, who works with AI as a muse – first the system generates new compositions based on Lipski's work, then the artist paints his responses and these are fed back into the machine to repeat the cycle. Another artist group I really admire is Shinseungback Kimyonghun. In their recent work 'Nonfacial Portrait', they asked artists to make portraits of people where the faces were not detected by computer vision systems.
Do you see a lot of interest in AI-driven artwork? How are people responding to it, especially from a commercial point of view? Is it going to become as valuable as regular art?
Over the past year, the interest in AI-art has increased, partly because there is so much attention on AI these days and partly because of the Christie's sale, where an AI-generated work by the French collective Obvious was sold for $432,000. Given this interest, many art world and technology institutions seek to commission or exhibit AI art. The commercial side is also developing, but it is not a main focus for the artistic community.
How big/developed is the AI artist community? Are there organisations or programmes dedicated exclusively to them? Where in the world has this topic received the most attention?
The number of artists working with AI is increasing – you have anyone from AI researchers to recent media art graduates to established contemporary artists entering the field. In terms of programmes dedicated to AI art, I have been running talks, exhibitions and workshops around the topic for the past couple of years around the world – most frequently in the UK or Germany. In particular, the NeurIPS Workshop on Machine Learning for Creativity and Design has received a lot of positive feedback. You can look at the accepted papers and the AI art gallery.
Should artists feel threatened in any way by AI? Have you come across people who are worried that the technology will somehow undermine their work or who have responded negatively to these AI-driven art forms?
No, artists should not be threatened by AI. Ultimately, it is another tool for them to use in their practice, like a camera or a paintbrush. There are some audiences who wonder why artists are using AI in their work, but I would say there is more curiosity and open-mindedness in the typical audiences I come across.
Do you expect AI to have major breakthroughs and transform certain sectors in the next few years?
Given the number of researchers and resources in the field, I expect there to be some major breakthroughs in the near future. In terms of application and transformation, this may take some time, but I would like to see more AI being put to good use in the medical sector.
Over two days, between 21-22 February, in Cluj-Napoca, MindChain will explore the interaction between Blockchain and Artificial Intelligence (AI).
The key proposition, reflected across the entire agenda, is that AI powers and enhances one of the most revolutionary technologies to have emerged in recent years.
With a 30-strong panel agenda featuring international speakers and key figures on the Blockchain scene, MindChain will bring forward the latest use cases for Blockchain and AI across a comprehensive mix of industries, such as retail, finance and banking, real estate, transportation, as well as emerging areas such as art, entertainment and media.
Through its architecture, MindChain is designed to attract a varied audience, from blockchain investors and professionals to startups, students and the general public interested to discover how these new technologies will shape everyday life.