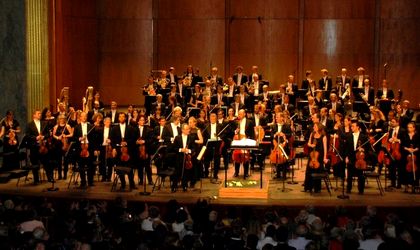 Enescu Festival continues this weekend with known artists and orchestras. This Friday, PHILHARMONIA LONDON will play at the Romanian Athenaeum from 4:30 PM. The conductor will be Cristian Mandeal and soloist piano player will be Boris Berezovski. The themes will be Enescu – Suite no. 2 in C major op. 20, Rachmaninoff – Concerto no. 2  for piano and orchestra in c minor op. 18 and Sibelius – Symphony no. 2 in D major op. 43.
From 22:30 Kirill Gerstein will play the piano also at the The Romanian Athenaeum, with the programme Bach – 4 duettos, Enescu – Sonata no. 1 for piano op. 24 in f sharp minor, Debussy – Preludes book 1, Brahms – Sonata no. 2.
On Saturday the Ensemble en Chordais, Ensemble Constantinopole and The Musical Voyages of Marco Polo will be  on the Romanian Athenaeum stage from 22:30 PM.
On Sunday on The Romanian Athenaeum stage will can see the Ensemble Instrumental de Paris, National Chamber "Madrigal- Marin Constantin" from 10:30 PM.