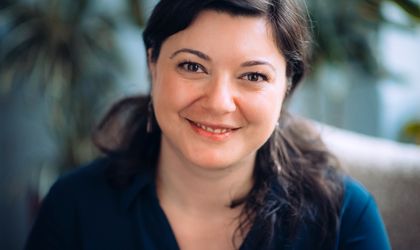 In a comprehensive festival overview, Business Review recently conducted an interview with Cristina Uruc, the newly-appointed director of the Enescu Festival. This discussion delved into the intricate strategies employed by the festival's organizers to strike an equilibrium between upholding classical music traditions and captivating new audiences. Of particular interest was the festival's proactive embrace of technology as a means to engage a more youthful and diverse demographic.
The Enescu Festival distinguishes itself by encompassing a wide spectrum of musical genres, including classical and contemporary compositions, featuring both established and emerging artists, and offering a blend of traditional and interdisciplinary performances.
What key factors are the organizers considering to strike a balance between honoring classical music traditions and engaging new audiences at the festival?
The Enescu Festival is about balance: between classical and new music, more mature and young musicians, renowned artists and emerging ones, traditional concerts and interdisciplinary ones. Through our means of communication, we try to reach new audiences by changing the perspective from which people see classical music: one does not necessarily have to understand music, but to experience it.
How have technological advancements been integrated into the festival's organization to attract a younger and more diverse audience demographic?
Starting with this edition, we are more active on social media platforms and here I don't refer mainly to Facebook, because all of us know that the average age on this channel is increasing. Instagram, Tik Tok and X are three of our most followed accounts and here we can measure the interest of the young audience that is the main target of these two platforms. Stories, posts and photos are viewed by thousands of followers on Instagram which is quite an achievement in such a short time since the beginning of the Festival.
Also, we maintained the multimedia technology in presenting operas and classical music works at the Sala Palatului, in the frame of the Great Orchestras Series of concerts, collaborating with two of the most renowned multimedia Romanian directors: Nona Ciobanu and Carmen Lidia Vidu.
Could you elaborate on the strategies being employed to make classical music more accessible and appealing to those who might be new to this genre?
I noticed that younger audiences are very interested in glimpse behind the scenes: maybe all these reality shows that were so promoted on the tv platforms in the recent past developed a kind of curiosity that, once satisfied, comes along with an increased interest to attend a concert just to see the final result of the backstage activity. Being involved in the making-of of a concert, even if as a passive participant, sometimes manages to make more appealing classical music to a larger audience. Moreover, movies like Tár, that are picturing the life of a conductor or a musician nowadays with the frenetic rhythm of their professional and personal issues, makes people realise that musicians are not gods that you cannot touch, they are not unreachable, therefore, their music is not unreachable, and this put aside the fear of the unknown, of the incomprehensible and attracts audience to experience music.
What role do educational workshops and interactive sessions play in cultivating an appreciation for classical music among attendees who may have limited exposure to it?
Educational workshops and interactive sessions play a vital role in fostering an appreciation for classical music among attendees who may have limited exposure to it. Workshops provide a basic understanding of musical fundamentals such as rhythm, melody, harmony, and instrumentation. This foundational knowledge helps attendees better comprehend classical compositions and recognize patterns during a concert.
Interactive sessions can delve into the historical and cultural contexts in which classical music was created. This contextual information can make the music more relatable and help audiences to appreciate its significance. These activities often involve active participation, such as playing simple classical tunes on instruments or singing along. This hands-on experience can make attendees feel a personal connection to the music and may feel less intimidated by classical music after participating in such sessions.
Can you provide insights into the lineup curation process, highlighting how the selected artists and compositions resonate with both seasoned patrons and newcomers?
The aim of the lineup curation process for the Enescu Festival concert series is to strike a balance between familiar and novel repertoire, showcasing both renowned and emerging artists. Diverse programming, thematic concepts, presenting Enescu's music in different venues and collaborations with other genres attract a wide audience. Programming includes well-known classics and lesser-known gems. Seasoned patrons often appreciate hearing their favorite pieces, while newcomers might be drawn in by recognizable works. At the same time, introducing lesser-known compositions can spark curiosity and intrigue.
What steps are being taken to ensure that the festival venue itself contributes to the overall immersive experience, making it inviting for people of all backgrounds?
This edition, the 6 concert series of the Enescu Festival principal programe are held in 5 of the central concert venues in Bucharest. Branding at the main locations and exposure of our partners are two of the visible actions to welcome our audience in a personalized environment. But our most important concern is the quality of the sound that our musicians and public experience in the concert hall.
All of us know that Romania, unfortunately, does not have a 4000 seats venue with appropriate acoustics for classical music concerts. The Enescu Festival is 50 years ahead of the infrastructure of the Sala Palatului which should be transformed into a cultural hub with all the necessary facilities for the technical crew, musicians and audience.
But every edition we are working on its acoustics making the best out of it in order to ensure a good experience for the participants. We hope that in the near future Romania will benefit from a large concert hall that can host one of the most important Festivals in the world, the George Enescu International Festival, as it deserves.
With the rise of digital platforms, how is the festival harnessing online spaces to engage with a wider audience and generate enthusiasm about classical music?
We are happy to announce that this year we launched the festival's new website, with new features and structures for a more user-friendly online experience. We created a blog in which visitors can find news, interviews, daily and weekly round-ups of the Festival, our digital and editorial projects. Concerts can be viewed live online and 12h after the live performance (based on the rights assigned by the artists). Earlier I talked about social media platforms and our activities that are more and more visible through these media channels.
What challenges have the organizers faced in their efforts to attract a broader public, and how have they overcome these obstacles to create a more inclusive environment?
Organizers of classical music events always have faced challenges in attracting a broader audience, including issues like perceived elitism, high ticket costs, and a lack of diversity. To create a more inclusive environment, we've implemented strategies such as discounted tickets, diverse programming, outreach efforts, accessibility improvements, educational initiatives, and feedback-driven adaptations. These efforts aim to make the Festival more approachable and appealing to a wider public.
What role does feedback from previous editions of the festival play in shaping the current year's event to better cater to the preferences and expectations of the audience?
Being the first edition with a new executive and artistic management, we can only answer this question at the end of the current edition, while working on the next one taking place in 2025. Indeed, we gather feedback daily and we are very open to it because this is the most direct way to feel the pulse of the Festival.
Can you shed light on any partnerships with local businesses, organizations, or cultural institutions that contribute to the success of the festival and its engagement with the community?
The Festival is about partnerships, collaboration and cooperation between people that are working for the local businesses, organizations or cultural institutions. Long term partnerships are still ongoing – the one with Rompetrol – and new ones developed starting with this edition – BRD Groupe Societe Generale.
The Romanian Athenaeum, the National University of Music, the National Art Museum, Odeon Theater, the Bucharest National Opera, all the other cultural institutions, coproducers, providers of specific services and private organizations bring their contribution to the Festival.
The Festival contributes in the community through the partnerships with Motivation and Special Olympics Foundation, Amurtel Association and Royal Foundation Margareta of Romania, partnerships that aim to bring music to a younger, larger and diverse audience.
How do you think events like "Mastering the Music Business" contribute to the global exchange of ideas in the music industry, especially in areas like artist management, and festival programming?
Events like "Mastering the Music Business" play a significant role in facilitating the global exchange of ideas in the music industry, such events bringing together professionals, artists, and experts from around the world, creating a platform for the exchange of knowledge, experiences, and best practices. Attendees can learn about different approaches to artist management and festival programming from a diverse range of industry players. Not to mention the networking opportunities, the diverse cultural background of the attendees and speakers that provide a broader perspective on music industry practices. This cross-cultural exchange can inspire new approaches and foster creativity. Moreover, professionals in artist management and festival programming can identify potential partners for joint ventures or collaborations in organizing events, promoting artists, or curating festival lineups.
Looking ahead, what are the long-term goals of the festival's organizers in terms of expanding their reach and making classical music an enduring part of diverse cultural experiences?
To sum-up, our goals as festival organizers are to attract a more diverse audience by reaching out to people of different age groups, cultural backgrounds, and socioeconomic statuses. We seek to make classical music events inclusive and appealing to a wider range of individuals. Long-term efforts involve developing and expanding educational programs that introduce classical music to young people. These programs include school partnerships, music workshops, mentorship initiatives, and scholarships to nurture future generations of classical musicians and enthusiasts.
Moreover, ensuring that classical music events are held in accessible venues, both in terms of physical accessibility and affordability, is a priority. This makes it easier for a broader audience to attend performances.
We are increasingly focusing on sustainability, aiming to reduce the environmental footprint of the festival and contribute positively to the local community by reducing waste, promoting public transportation, and supporting local businesses.
The interview is part of a series in collaboration with Mastering the Music Business.