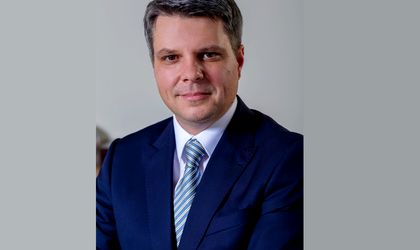 The importance of digital infrastructure and the investments needed to maintain it at a high level have never been as obvious as they are now. Mihnea Radulescu, Enterprise Business Unit Director at Vodafone Romania,  talked about the critical role of digital infrastructure and the impact of technology on businesses continuity at Business Review's Foreign Investors Summit in late October.
By Aurel Constantin
The crisis generated by COVID-19 is also creating opportunities and we should look at them with optimism. "In the life of a society there are moments when some steps can be skipped to move forward quickly. We often talk about our infrastructure, about roads, railways, utilities, and so on. But now we have an opportunity, a moment when there are extra EU funds that can be used to develop digital infrastructure. In Germany, for example, a lot of money is being spent on digitizing infrastructure. We have the chance to do this from scratch and it should be a very important area of development for Romania," Radulescu explained.Technology and digitalization are playing important roles in our lives all the time, but even more so amid pandemic-related restrictions. "Technology is mostly seen as support for remote working these days, but it has many more uses and connotations. First of all, technology is pan-industrial; it is not invented for a single purpose. Today there are technologies such as the Internet of Things, that can cover any industry, any economic sector, from hospitality to industrial manufacturing," said Mihnea Radulescu.
A second important area is represented by SMEs. "Small companies account for over 50 percent of the economy, which is a huge figure. In addition, SMEs employ more than 65 percent of the workforce, so we need to help this sector. Small and medium-sized companies will have to do business in a modern, digital environment. And we come back to European funds, because SMEs do not have much money on hand for investments in digitalization, especially during this time. But there is a large amount of money available at the European Commission – billions of euros – which will have to be spent in this sector," the Vodafone executive added.
"As a solutions integrator, Vodafone needs to help companies understand the need for digitalization and how they can attract this money, as it will be an important opportunity in the coming years. It's a chance for us to jump over certain stages, as we did when we launched mobile telephony in the late 1990s. Within two years, the number of mobile connections had surpassed the number of landlines," he noted.
Digitalization doesn't only mean finding solutions to various problems; it also brings on a lot of processes that must be integrated into a company's activity. It can help create an ecosystem that keeps everything in check.
Life during the pandemic
Technology helps us communicate and continue our work and there are many employees who have been working from home for months, since the beginning of the pandemic. And their behaviour, just like that of companies, is changing.
"Almost half of firms expect working from home to last for at least another year from now. We will be in this situation for a while and we must ask ourselves how to better adapt, since many employees miss the social interaction they had at the office. Productivity has increased since working from home started, but let's not forget that people who spend all this time at home are affected both socially and physically. As providers of digital solutions, we must adapt to create the best solutions for companies and their employees," Radulescu argued. Romania is ahead of many states in terms of the speed and resilience of its telecommunications infrastructure. "But investments in these networks must carry on despite the pandemic; we have a commitment to continue investing in order to maintain the quality of the network," he concluded.