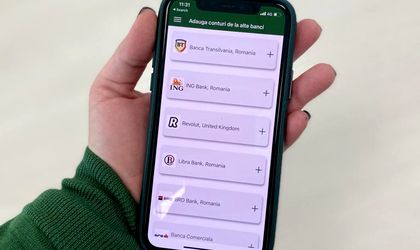 Finqware announces a new implementation of its One API for multi-bank connectivity in the CEC Bank digital banking.
Based on Finqware bank connectivity middleware, CEC Bank can now provide its customers with access to all main banks in Romania. The multibanking feature launched by the financial institution will enable its customers to securely connect all their other bank accounts into the CEC Bank mobile app.  Thus, the end user can check the balance and the transaction history of his/her accounts with the other financial providers. This is a fast and simple way to obtain an aggregated view of their finances, at individual or household level. The feature currently covers 9 of the most important banking players in the Romanian market: Banca Transilvania, BCR, Unicredit Bank, BRD, Raiffeisen Bank, ING Bank, Alpha Bank, Libra Bank and Revolut.
CEC Bank, one of the largest retail banks in Romania, becomes one of the first banks to commercially launch features based on open banking in the CEE region. In the Romanian market, CEC Bank and Banca Transilvania, the market leader, having launched a similar feature in its NEO platform in September 2020, are the only players capitalizing on the implementation of Revised Payment Services Directive (PSD2) by connecting to data from other banks.
PSD2 regulatory framework makes it mandatory for the banks to open access to their own banking data through APIs, enabling secure connectivity and integration to any kind of digital application. Romania becomes one of the few countries in the CEE region with two banking players driving adoption of open banking in the local marketplace.
"At Finqware we are true to our mission of putting open banking to work and improving the way people and companies manage their money. We are proud to work with CEC Bank as an innovation partner, powering open data consumption capabilities for the benefit of their customers. We are already working towards the next steps of our partnership, looking forward to implementing new PSD2 use-cases with the bank. Data driven business optimization is our common long term strategy, on top of consuming open banking." declared Cosmin Cosma, Co-founder & CEO of Finqware.
"Digitalization is an important pillar in CEC Bank's strategy and we are open to new technology that allows reliable, faster services and improved customer experience. Our omni-channel business model allows us to leverage our growth on both our brick-and-mortar network – the largest in Romania and new digital channels  . With Finqware, we brought the multibanking service from lab to market in record time, being able to launch the feature in less than four months. We are working closely with our partner on extending open-banking features to payment initiation services , " stated Mugur Podaru, Digital Director, CEC Bank.