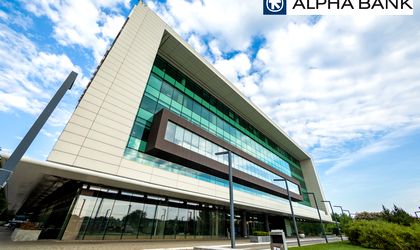 Alpha Bank Romania announces that it has signed a business transfer agreement with Orange Money Romania to acquire the consumer ecosystem built by the company, which encompasses its customer portfolio, top-of-the-market digital assets (mobile application), credit card portfolio, and employees. With this acquisition, Alpha Bank Romania continues to move forward with its strategic plan to further strengthen its customer value proposition and market presence.
The transaction will further enhance Alpha Bank Romania's proven banking expertise and innovation tradition with the fully digital approach and agile environment of Orange MoneyRomania, thus allowing it to become one of the key players in the Romanian digital banking space. In addition, the bank's skilled and experienced team will be complemented by the pool of highly talented Orange Money Romania employees to create one of the best digital services–oriented teams in the market.  
Onboarding the local Orange Money customer base will allow Alpha Bank Romania to strengthen its market position by significantly expanding its customer portfolio. Orange Money customers will continue to benefit from existing products and services, while they will also gain access to the full range of banking products and services that Alpha Bank Romania provides on the local market. At the same time, the transaction will allow the bank to offer customers a stronger digital proposition by incorporating Orange Money's digital assets and evolving it into a state-of-the-art mobile banking application.
"Alpha Bank Romania has combined tradition and innovation since the launch of its operations and this acquisition is part of the bank's strategy to strengthen its position in the market and offer a superior digital experience to its customers. We are delighted to benefit from the strengths of Orange Money Romania and excited by the opportunity to build an ecosystem of digital solutions for our customers. Our strategic thinking, flexibility and long-term vision are thus complemented by an infusion of agility and expertise in the field of market-leading digital financial services", said Sergiu Oprescu, Executive President of Alpha Bank Romania and General Manager of the International Network of the Alpha Bank Group.
The transaction completion is subject to receiving all regulatory approvals and fulfilling other customary closing conditions.
"Thanks to a strong team of digital banking specialists, Orange Money Romania has grown steadily, becoming a top digital financial solution, recognized by customers and the market for the quality of its services and innovative vision. The strategic path of Orange Money has always been geared towards integrating the application and its products into a banking ecosystem and, in order to achieve this goal, we signed the transfer of the retail Orange Money business to Alpha Bank Romania. Alpha Bank's expertise will provide continuity to our customers, and their banking products will also enhance the suite of services to which Orange Money users have access today", said Haris Hanif, CEO of Orange Money Romania.