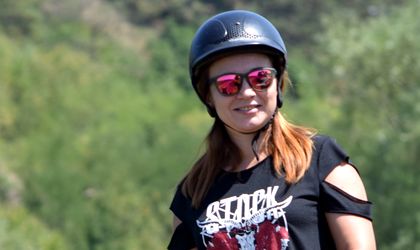 Business Review has launched a new campaign called #makeithappen. Every day, for a month, we will present 30 inspirational entrepreneurial stories of Romanians who turned passion, hobbies and knowledge into a business. We will present the stories of entrepreneurial initiatives of all sizes in all economic fields, underlining the diversity and creativity of the local business environment. By starting this campaign, Business Review is strengthening its commitment to be the the go-to source for inspiring stories of Romanian entrepreneurship.
The fourth story in our series focuses on first-time entrepreneur Andreea Neagu (33), who set up a travel business to put to good use the skills she honed while organizing trips for friends.
Fresh out of highschool, at 19, Andreea Neagu first got a job as a sales representative. She decided later to continue school and chose a finance and banking specialization. Until 2008, she worked as a credit broker and then, as she felt the need for a change, entered the field of Horeca. One year ago, she decided to take a leap of faith and turn her passion for travel into a business, Xcursii.ro, and that is why we chose to tell her story.
Turning passion into business
To this young entrepreneur, the idea to start a business in this field came naturally, as it combines her love for people with the organising skills she developed in her professional career. "Everything started out of passion", she says. "I like to work with people and I think every choice has prepared me for what I would do in organizing trips. I like traveling and I've done it as much as I could. Every time my friends and family gave me the task of organising everything. That is why, at some point I thought there were other people who needed a friend like me! That is why in the spring of 2017 I founded Xcursii.ro," she says.
The business is self-funded. "It was not a big investment," Neagu says. "I first created a Facebook page and the money came from my salary. There was a need to pay for advertising, transport advances, and then accommodation for the photographer, the website and others related to the presentation," she says. "Much of what I won at the beginning was reinvested," she says of her business strategy.
Picture or it didn't happen
As a touch of originality inspired by some of her early clients, she added to the group as a permanent fixture a photographer. "During the first trip I made photos using my phone. But afterwards I realised I cannot make pictures, talk to the people around me and keep my focus. Then, it's also about the quality of the pictures, as I don't have the skills a photographer has," she explains. "The, after the second trip I made I was surprised to see that most of the people who came along had changed their Facebook profile picture with one made during the trip. And that's when I made the decision to always have a photographer on my trips," she says.
According to Neagu, the best thing about having a travel business is the fact that you get to travel more often. "This is the biggest advantage and the fact that I meet people very eager to discover Romania. I have made new friends and collaborations in every place we visited. Of course, it's nice to make money doing what you like and what suits you," she explains.
As for the challenges for a newcomer to the field, Neagu points to several. "Tourism is an unpredictable field for several reasons. For example, you depend on weather conditions and sometimes on working with other people or businesses. The most unpleasant situations we were faced with were those when we had to postpone an event or change the program while we were on the route," she explains.
"This is an unpredictable sector," she notes. " The most nerve-wracking thing was when dealing with issues relating to planning.  So the biggest lesson I learned is that I must always have Plan B and Plan C," she recalls. "The local and national guide courses I did helped me with this. Every field requires specialised training," she argues.
Focus on Romania
What makes her business different? "Tourism offers a great diversity in its activities. This is a good thing but at the same time it's hard to define, it's hard to choose, to focus on something when everything is attractive and accessible to us who organise trips," the entrepreneur says. "But what I do is to focus more on promoting Romania, that seems important to me because we need it. I also want every trip to be unique, a true adventure that does not happen again. The only excursion I do every year is sailing on the Black Sea, but here I started to add new ideas. We have prepared a trip to the sea to Balchik and back. So we offer new horizons in this field and we are able to take excursions from land to the sea."
Most customers find Xcursii via internet, mainly Facebook and the website www.xcursii.ro, but also via acquaintances and friends.
So far, the company has had private clients but in the future will also target corporate clients. "We have recently also signed up with a travel agency in Madrid. And we hope to bring visitors from there who want to discover Romania," Neagu says.
As for her favourite travel destinations, Neagu points to Romania's historic regions. "In Romania, I love Valea Oltului, the place where I grew up and I come back with love every time, then on the list are Bucovina, Maramures and Transylvania. Abroad, I love travelling to Portugal, Italy and Thailand."
Dreaming big
Neagu's future plans for her young business are big. Next, "I plan to increase my team and check the map for as many destinations as possible. We still have some news to roll put in 2018 and 2019 but you need to track your activity to find out," she says. As for the figures, "it is hard for me to estimate an amount," she says, adding that "people's interest and vacation opportunities are always changing. At the moment, the revenues are not great, but given that I'm at the beginning, I'm happy."
Read our other stories in the series: Romania-based Gateway VR Studio, among the first 10 Virtual Reality companies in the world, Creating a community you want to be a part of – aSpace, the new co-working hub in Bucharest and Meet the third generation barrel-maker supplying the best Scottish whisky brands.