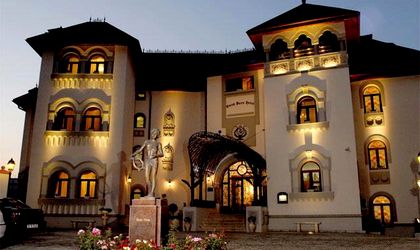 The first super 5-star hotel in Romania will open in September this year in an historic palace of Bucharest under the management of Razvan Pirjol, the president of the Bucharest Tourism Board, according to Agerpres.
"The Suter Palace in the center of Bucharest, the most luxurious boutique hotel in Romania, built at the beginning of the 19th century as the residence of the Swiss architect Gustav Suter, close to Carol I and craftsman of Carol Park, as well as Grammont neighborhood, will have 17 different rooms and suites," Suter Palace  representatives said.
The opening of the Suter Palace is scheduled for September 1, the hotel being classified as super 5-star, being the only one in the country with this superior comfort.
The building entered the tourist circuit in 2007, when it was launched on the hotel market under the name of Carol Park Hotel, attracting in the years following famous customers who arrived in the capital, including Beyonce singer, actor Nicholas Cage and singer Enrique Iglesias.
"Starting from the idea that ​​small is beautiful, we want that by opening the Suter Palace Hotel, to complete the offer of Bucharest retreat city with a contemporary hospitality concept with the charm and tradition of a patrimonial building. We hope that we found the perfect balance between past, present and future," says Pirjol.
He also said that the investment was of "several million euros". About the recruitment of staff, Pîrjol said that "this is the great problem of Romania, but not only in tourism. We started a recruitment process and we hope to meet the requirements of a qualified staff."
The Suter Palace building was bought in 2015 by a Romanian company, after the hotel was closed for a few last years. The new shareholder has in the meantime renovated the hotel, rebranding it with its original name, Suter Palace.