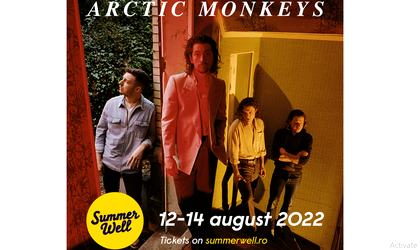 For its 11th edition, Summer Well will be reinventing itself. The festival gets a new dimension combining music, tech, art, and many more to create a universe filled with new experiences. However, we're keeping what is iconic for the festival: date and location. Summer Well 2022 takes place in the second weekend of August, 12th – 14th of August, on the beautiful grounds of Știrbey Domain in Buftea. 
Without ruining the surprise, we can give away a few details about the next edition: many stages, a better than ever line-up, a bigger hip-hop stage and many after parties featuring some of the biggest names in electronic music, on our mission to open the event to new music genres and artists.
The most requested band in the history of the event is finally playing Summer Well: Arctic Monkeys is the first confirmed headliner. One of the greatest British bands, with over 9 billion streams, is coming to Romania for the first time. Their music and energy will take over the festival and their live show will surely go down in our history.
"We're working hard every year to bring significant artists, for the first time, on the festival stages. The fact that Arctic Monkeys are playing Summer Well next year is a major musical event and the answer to requests we've gotten over the years from our audience." said John Varbiu. 
Because the safety of our audience is a major priority we'll take all the necessary precautions during the Covid pandemic. The festival will follow all the rules and restrictions imposed by the authorities at time of the event which unfortunately we cannot foresee. However, we can anticipate that having a green certificate in order to attend should be taken into account.