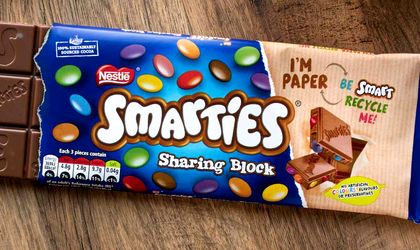 Nestlé, the world's largest food and beverage company, has reduced its carbon dioxide emissions by more than 4 million tonnes in 2021 – equivalent to the annual consumption of 870,000 cars – or about 11% of all small vehicles on the road in Romania last year.
To achieve this, Nestlé is transforming every aspect of its business – from fuelling trucks with biogas from organic waste, to using 100% renewable electricity for factory production, to creating packaging solutions that reduce plastic and can be easily recycled.
Nestlé is constantly striving to develop new packaging that is designed from the ground up to be recycled, as well as developing recycling infrastructure. The company is committed to making its packaging 100% recyclable or reusable and to reducing the use of new plastics by a third. This means using more recycled materials, creating more reusable packaging or eliminating packaging altogether by experimentally delivering products in bulk.
Nestlé is thus pursuing the development of infrastructure that improves collection, sorting and recycling, which prevents environmental pollution, either by developing its own projects – as in the case of Nespresso, NESCAFÉ® Dolce Gusto® – or by working with external partners and authorities. The infrastructure enables recycled materials to reach the final, circular process by supporting the integration of recycled content into new packaging.
As a result of efforts in recent years, Nestlé has reduced its use of virgin plastic by 10.5% versus 2018 baseline, Smarties became the first global confectionery brand to switch to paper packaging, Nespresso uses 80% recycled aluminium in its capsules in Europe and a multitude of brands and packaging solutions in the Nestlé portfolio are 100% designed for recycling, from Maggi bouillon cubes to Purina One Dry Cat packaging.
Nestlé has also launched a programme to collect and recycle NESCAFÉ® Dolce Gusto® capsules in December 2022.
"For Nestlé, coffee quality is paramount, but equally important is the sustainability of the growing process and achieving zero net greenhouse gas emissions, and this programme complements the many actions Nestlé has initiated. Our consumers can find out about the collection points and more information about this project at https://www.dolce-gusto.ro/recycling", says Irina Siminenco, Corporate Affairs Manager, Nestlé Romania. 
Through the Nestlé Net Zero Climate Roadmap, the company is committed to developing sustainable packaging solutions and actively contributing to identifying waste management solutions to reduce greenhouse gas emissions.
"By doing so, we are reducing, reusing and recycling packaging, facilitating the transition from virgin plastics to recycled food-grade plastics and developing innovative packaging solutions through the Nestlé Packaging Science Institute, the first institute of its kind in the food industry. This is part of a long-term vision that none of our packaging, including plastics, ends up in the environment, incinerated or in a landfill. The transition to the circular economy is supported at Nestlé through constant investment and effort, but I firmly believe that change starts with us. That's why it is important for each of us to be aware of our environmental impact and to support sustainable initiatives together," adds Irina Siminenco, Corporate Affairs Manager, Nestlé Romania.