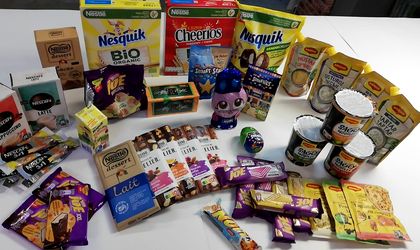 Nestlé wants to inspire people to make healthy choices every day, to adopt an active and balanced lifestyle, especially from a nutritional point of view, and that is why it comes up with the healthiest alternatives for their favorite products. The company has stepped up its efforts to innovate and reformulate recipes, in order to reduce the amount of added sugars, salt and saturated fats and increase the content of vegetables, fruits and whole grains. For 25 years, Nestlé has been introducing products on the market with superior taste and quality, adapted to consumer preferences, and this spring it comes with novelties for all the product categories it has in Romania: from coffee and breakfast cereals and to culinary products. These products are adapted to the consumption needs of the pandemic period, when Romanians prefer products suitable for the whole family, products that are easy to use in the context in which the habit of cooking at home has experienced a new impetus.
Statistics show that two thirds of Europe's population skip breakfast at least once a week, thus lacking the nutrients needed to function optimally from the first hours of the day. Consumption of cereals is associated with the habit of having breakfast, according to a study conducted among European adolescents, whole grains having a fundamental contribution in a balanced diet. Moreover, specialists who have analyzed the consumption of whole grains in the daily diet emphasize the role of this eating habit in reducing the risk of heart disease, type 2 diabetes and obesity.
To support this healthy habit, Nestlé brings to market as wide variety of breakfast cereals to suit all tastes and preferences. The new Nestlé HONEY CHEERIOS® BIO ORGANIC and Nestlé NESQUIK® BIO ORGANIC breakfast cereals are prepared with ingredients from organic farming and offer the right combination of taste and nutritional benefits in the form of crunchy rings. The latter do not contain palm oil, preservatives or artificial flavors, both of which are suitable in unlimited combinations with different types of milk, both hot and cold, for the whole family.
The new gluten-free Nestlé Corn Flakes bar contains cornflakes, has 30% less sugar than the average similar product on the market (September 2020), is a source of fiber and comes in a format of 22 grams.
Nestlé NESQUIK® BANANACRUSH stuffed cereal pillows have a recipe for crispy cocoa cereal and a banana-flavored interior.
In recent years, according to the research company Euromonitor, the consumption of wafers has experienced a significant increase. JOE® brings ORIGINAL Lemon, lemon – one of the most beloved aromas of Romanians – which now comes in a bag. JOE® wants to continue to surprise its fans this summer by relaunching the Summer Dreams range in a unique version: JOE® SummerDreams Berries and JOE® SummerDreams Banana. The new JOE® Salty Caramel brings a special combination: crispy wafer sheet, sweet caramel cream sprinkled with salty accents, all wrapped in milk chocolate.
According to Eurostat data, a Romanian consumes an average of 2.2 kilograms of chocolate per year, the level of consumption increasing significantly in recent years. The figures show a consumer preference for milk chocolate, at 77%. Also, the National Institute of Statistics indicated in 2018 that the remaining 30% of the population was divided between plain chocolate and cream with various assortments, white chocolate representing 7.4% of this total.
The diversification of consumption options for chocolate lovers has led to the expansion of Nestlé's After Eight praline portfolio with one of the favorite flavors of Romanian consumers: Orange. After Eight Orange surprises consumers, bringing the delicious combination of dark chocolate and mint fondant cream, enriched with a fine orange flavor.
Les Recettes de l'Atelier chocolate offers a unique experience: dark or milk chocolate, combined with whole pieces of hazelnuts, almonds or candied fruit, offers an artisanal creation that reconnects the consumer with truly authentic pleasures. This chocolate is made from cocoa from sustainable sources and 100% natural ingredients.
With Nestlé Dessert®, consumers can get the best chocolate dessert at home, as Nestlé Dessert has launched two new products: Cocoa Powder and Nestlé Dessert Lait. The ingredients are of superior quality: cocoa mass from West Africa and South America, pure cocoa butter, natural Madagascar vanilla flavor. This allows the diversification of recipes for those who prefer the sweet taste and creaminess of milk chocolate. It complements perfectly with the dark chocolate and white chocolate Nestlé Dessert already on the market. The packaging is made of recyclable paper and contains information about the origin of chocolate, as well as recipes for successful desserts.
Regarding coffee, according to the latest market study conducted over the last 5 years, the main segment continues to be R&G, followed by coffee mixes, especially 3in1. As for the most dynamic segments, they are coffee beans and portioned coffee. On the cold mix market, NESCAFÉ® 3in1 launches a new limited edition for the summer season: FRAPPE Vanilla-Caramel – a mix of coffee with milk, sugar and delicious taste of vanilla and caramel, a soft drink that you prepare quickly, for a truly refreshing and delicious experience!
In the cappuccino segment, the new NESCAFÉ® CAPPUCCINO & LATTE are irresistibly sparkling and delicious. Whether you choose a tasty cappuccino or a frothy latte, you can recreate moments like at the cafe, right at home, with friends. All products are obtained from sustainably grown and processed coffee beans under the NESCAFÉ Plan umbrella, through which, by 2025, it is intended to obtain 100% of the used coffee in a sustainable way.
NESQUIK® is a strawberry-flavored milk drink (93%) and raw cane sugar (2.6%). It is ready to drink, anywhere and anytime, from natural ingredients, suitable for a snack break at school, at home or outdoors.
The SMARTIES® range is enriched this spring with SMART SEAS® Limited Edition. With the help of virtual reality, SMART SEAS® educates parents and children about the ocean in a fun and playful way. SMART SEAS has 4 design versions, with marine animals, a QR code that introduces children to an underwater world and paper packaging. Earlier this year, SMARTIES® became the first global candy brand to move to 100% recyclable paper packaging, eliminating approximately 250 million plastic packaging globally each year.
MAGGI® sauces are the perfect ally to add texture and flavor to dishes, without added artificial colors and preservatives. MAGGI® Mustard is an ideal ingredient for meat. MAGGI® Garlic Sauce and Tartar Sauce are ideal products to prepare special and tasty snacks even during fasting periods. MAGGI® mayonnaise is suitable for vegetarians and is a perfect dressing for any salad. MAGGI® SAUCY NOODLES offers a delicious portion of noodles in three varieties: chicken with sesame, Teriyaki sauce and sweet-spicy sauce. They can be enjoyed in 5 minutes, wherever you are. The MAGGI® TRATTORIA A CASA range offers sauces for Risotto Cremos, Penne Arrabbiata, Tagliatelle with mushrooms.
Nestlé tries to help consumers choose the right portion through the shape and packaging of the products. Thus, a complete and transparent nutritional communication is present on all packaging. Last but not least, Nestlé aims to provide as complete information as possible about a healthy lifestyle, communicating on digital channels, on the nestle.ro page in the nutrition section -https: //www.nestle.ro/nutritie, as well as through the educational programs in which he is a partner: "I live healthy too!" and "Healthy bag".