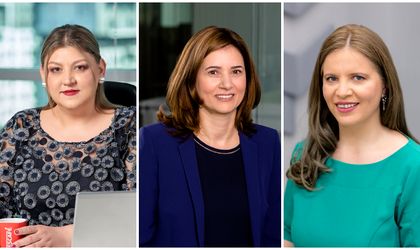 Nestlé Romania started 2022 with an increase of 12.9% in the first quarter. This increase is due to the sustainable choices and with a balanced nutritional profile made in the company's portfolio. In the first three months of the year Nestlé made launches in most categories, being brought to the market innovative products under brands that entered for the first time in Romania – such as NESVITA® (oat snacks for breakfast) and NANCARE® (paediatric supplements) or being extended the ranges already existing on the market. In a difficult context, with many challenges and pressures, Nestlé continues to bring quality products to consumers at affordable prices to improve their quality of life.
The changes over the past two years have led to three important trends observed in consumer behavior, and these trends have prompted the rapid adjustment of Nestlé's strategy to the current context.
"We have adapted to the acceleration of e-commerce and focused more on short- and medium-term options in terms of strategy. We are grateful to our retail business partners and strategic partners for helping us fulfill our mission. Home consumption and cooking at home with the family have led us to bring to the market products that come to the aid of our consumers, such as those from the Maggi range. The pandemic and lockdown have put an emphasis on sustainability, which is why a special place in Nestlé's global portfolio is occupied by sustainable products, offering consumers interested in healthy, environmentally friendly or environmentally friendly products an alternative that does not compromise taste and savor. The most recent example is the vast supply of plant-based foods and beverages. Some of our top brands that will soon have a carbon neutral footprint are GARDEN GOURMET® and NESPRESSO®, by the end of 2022.  We have also voluntarily implemented Nutri-Score globally since 2019, and in Romania we have started in 2021 to communicate this nutritional score on products to help consumers make the most informed choices. Our plan for this year is to have a constant growth on all segments and to ensure the same quality products that Romanians have been accustomed to for over 25 years", says Silvia Sticlea, Country Manager Nestle Romania.
Nestlé's portfolio grew this spring with new products suitable for all ages and tastes: MAGGI The Idea of Chicken Day with Mushrooms and MAGGI Sauce for Hamburger, Fitness Dark Chocolate, NESCAFÉ® Cappuccino Mocha and NESCAFÉ® Frappe Vanilla, NESCAFÉ® Dolce Gusto Buondi and Essenza di Moka, Starbucks By Nespresso® Breakfast Blend and The Premium Signature Chocolate, and in the pet food segment,  the FELIX range has been relaunched.
In the Confectionery category, this spring, JOE Dreams Cocos, After Eight Strawberry, Les recettes de L'atelier Dark chocolate with blueberries, almonds and hazelnuts and Milk chocolate, caramel, almonds and hazelnuts, KitKat Pops, Smarties bag and Easter seasons were launched under the Smarties and KitKat brands.
Nestlé Professional invites consumers in Carrefour Gastro to taste dishes made with Garden Gourmet Fillet Pieces & Vegan Nuggets, herbal preparations. These products are present in 42 hypermarkets, nationwide, and can be found under the following names: "Vegan Pan", "Pilaf Vegan" and "Vegan Nuggets Menus".
In the Dairy category, the innovation agenda of the product portfolio includes this year 2 important launches that respond to the current consumer trends, Starbucks Chocolate Signature and Nestlé NESVITA® Cereals with oats.
Infant Nutrition category – trends and plans for 2022
The Nutrition category for infants and young children grows thanks to the products for the diversification of the diet, respectively the segments of snacks from fruits, cereals, milk, menus with vegetables and meat.  Based on Nestlé data, in Romania these segments have a lower penetration among consumers than in other neighboring countries, but are growing rapidly.
There is an increase in both volume and value as a result of a wider offer of products (for home consumption or "on the go") that comes to meet the requirements of a greater number of buyers. The distribution channels that are growing more this year are represented by the hypermarket, the supermarket and the pharmaceutical retail that are recovering during this period compared to the pandemic period. Also, buying online remains a relevant alternative for parents.
"Specialist doctors believe that nutrition in the first years of life has a major impact for the rest of their lives. Natural food is the best food at the beginning of life, a truth that Henri Nestlé insisted on since the founding of the Nestlé company in 1866. To diversify nutrition, Nestlé offers a wide range of products made from carefully selected ingredients, following high quality standards, much stricter than adult nutrition", says Mihaela Bușu, Business Executive Officer Infant Nutrition Nestlé România.
This year, Nestlé continues the tradition of launching the latest innovations, created by specialists based on the latest research and experience of over 155 years in the field.
"We have a rich agenda of product launches and we bring 2 new brands to the Romanian market: GERBER® Organic for Baby – a range of bio products for food diversification – and NESTLÉ NANCARE® – pediatric supplements." Company representatives have announced.
In May 2022, Nestlé launched in Romania the GERBER® brand with the range of Organic for Baby products, bio products addressed to infants and young children. GERBER® is the international brand nr. 1 in this category, very well known among parents, originally from the USA, which now arrives in Romania with a variety of organic products: fruit purees, meat and vegetable menus, vegetable milk snacks, snacks from cereals and fruits. All recipes are produced from carefully selected and nutritionally balanced ingredients that support the various stages of diversification of the diet of infants and young children.
An important event at the beginning of the year was the launch of the NESTLÉ NANCARE® brand pediatric supplements, specially created for babies and young children. The products are currently distributed in pharmacies and online commerce, and the administration of the products is done on the recommendation of the pediatrician. The product range includes NESTLÉ NANCARE® Vitamin D, NESTLÉ NANCARE® Flora-Equilibrium with GOS/FOS oligosaccharides that favor the balance of the intestinal flora and NANCARE® DHA, Vitamins D and E. DHA and vitamins D, E are important for the proper development and functioning of the immune system, bone system and brain in the first years of life.
"In our desire to support parents not only in terms of children's nutrition, we wanted to know what they face in everyday life. In 2021, the Parenting Index was published, conducted at the initiative of Nestlé, based on 8,000 interviews with parents with children up to 1 year old from 16 countries, including Romania. This index provides a new framework for understanding the experiences and challenges of parents and shows that all parents have challenges regardless of the country in which they live. The biggest challenge of parents both globally and in Romania is the pressure from society (friends, social networks) regarding parents' decisions regarding the upbringing of children. In Romania we launched this parenting program under the name "Be a parent in your own way". With the support of our partners, we pay attention to the challenges of parents in our country and we want to support them to find solutions. We continue to encourage their dialogue with other parents, specialists and opinion leaders interested in parenting and we will come back with information and news related to this program in the near future." The company declares.
Pet Food Category – trends and plans for 2022
The pet food market continues to see accelerated growth, estimated at over 15%. This increase comes as a result of the fact that more and more consumers are concerned about the well-being and health of pets and have begun to understand the importance of proper nutrition to ensure them a life as long and happy as possible. Additionally, more and more consumers are starting to be interested and act on sustainability. In this regard, they began to choose recyclable packages, to look for labels as clean as possible or to choose the producing companies that prove a social involvement.
"In building our plans we are always guided by the PURINA® philosophy, that of making every effort to create a better life for pets and those who love them. That is why, for over 100 years, PURINA® has been dedicated to the development of nutritious, good quality food that helps cats and dogs live healthier, longer and happier. In Romania, PURINA® serves consumers with a vast portfolio of brands and products designed to meet various needs (wet and dry food and rewards for dogs and cats). In 2022 we aim to have a greater focus on products with specific benefits aimed at improving the welfare and health of pets, knowing and understanding the occupation of consumers in this direction", says Diana Bejan, Business Exective Officer PURINA®, Nestlé Romania.
But beyond the efforts to provide the best food for their pets PURINA® is actively involved in social and sustainability projects, and efforts will be accelerated in 2022 and beyond.
PURINA's initiatives include: the commitment that by 2025 all PURINA packaging will be recyclable, the educational project "PURINA PET SCHOOL", "Our effort, their reward" and "Together at the office".
"Through the PURINA PET SCHOOL project, we ensure that more and more children find out information about the responsible care of pets, a project carried out in collaboration with prais foundation in 10 new schools in Bucharest and in 5 schools in Cluj Napoca, with the involvement so far of 21,794 students, 819 teachers and 43,000 parents and family members. Students receive free of charge brochures with information and interactive games, as well as a set of educational videos for studying in class, through which they explore the world of pets and learn about the responsible care of them. Teachers organized 630 open lessons at the end of which children created over 6,000 drawings illustrating the relationships between people and pets, how we should take care of them and how they make our lives more beautiful and better." Stated PURINA® representatives.
The PURINA program "Our effort, their reward!" aims to have a positive impact on both the internal PURINA team and on the pets in need. For every 10,000 steps taken by any of its team members, 1 kg of food is donated to an animal shelter.
"Thus, we actively participate in maintaining the well-being of our team and turn these efforts into donations for pets in need. Together, in February, we managed to reach 10 million steps at SEM level, being translated into 1 ton of pet food donated to local NGOs in SEM! In addition to these efforts, we have contributed in recent weeks to significant donations of pet food in support of the crisis in Ukraine, and we will continue to do so if the situation demands it." PURINA® representatives continued.
Through the PURINA Together at the Office project, starting with June, the Nestlé office becomes pet-friendly. This initiative comes as a response to understanding the special relationship people have with their four-legged friends and by having them with us at work, multiple benefits are created. For employees to reduce stress levels, encourage socialization and movement, and for pets the chance to spend more time with their owners.
"Thus, every Thursday and Friday, we will share the workspace with our four-legged friends, and in the future we aim to share our experience and encourage other companies to join this initiative."
Beyond these initiatives, at European level, PURINA is involved in multiple initiatives that represent concrete commitments to improve the lives of pets, society and the environment. You can find out more details by going purina.ro the section "Social responsibility".