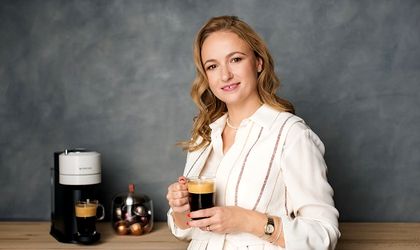 Nestlé, the largest food and beverage company in the world, is present in Romania with 9 divisions, including Nespresso, Nestlé Professional and Cereal Partners Worldwide CPW. They have had a positive development in the last year, each with an increase of at least one figure.
"In a period with a dynamic different from what we have experienced so far, in a volatile market, we managed an increase of 11.1%, our divisions have shown resilience and determination to bring novelties to their segments and to continue the road to achieving the sustainability goals set at group level", says Silvia Sticlea, Country Manager Nestlé Romania.
Nespresso projects and plans
Nespresso has been operating directly in Romania as a Division of the Nestlé Group since 2015. It manages two business segments: the Business to Business segment – where it offers coffee solutions for companies with office offices and companies in the Premium HoReCa sector and the Business to Consumer segment – with coffee solutions for home, sold through its own network of stores in Bucharest and in the country and through the online store www.nespresso.com. There are currently 8 Nespresso stores: 5 in Bucharest – Nespresso Boutique Dorobanţi, Nespresso Boutique in Baneasa Shopping Mall, Nespresso Boutique in AFI Mall, Nespresso Island in Mega Mall and Nespresso Island in Sun Plaza, and one store each in Cluj, Timisoara and Brasov. For the distribution of espresso machines, Nespresso collaborates with production partners Krups and DeLonghi. In 2018, Nespresso introduced its own infrastructure for collecting and recycling used coffee capsules – Nespresso coffee lovers can bring the used capsules to stores or send them by courier, at no cost, when they make a new order for coffee.
In the Business to Consumer segment it offers two brewing systems – the Original System (the espresso machines use pressure of up to 19 bars for making coffee and the size palette of the cup includes ristretto, espresso and lungo) and the Vertuo System – the espresso machines being equipped with a completely new technology, patented by Nespresso – CentrifusionTM – through which the coffee is infused by centrifugation with up to 4,000 revolutions per minute. The Vertuo system is available in all Nespresso stores, in Bucharest, Cluj, Timisoara and Brasov and in the online store www.nespresso.com. Coffee lovers can also opt for the Nespresso Subscriptions for Espresso and Coffee – practical and efficient solutions through which they benefit from the chosen espresso machine at the price of 1 leu and then pay only the price of their favorite coffee, in the form of a fixed monthly fee.
Nespresso offers the widest variety of coffee assortments for home – with 33 assortments in the permanent range for the Original system and 36 assortments in the permanent range for the Vertuo system, as well as numerous limited and seasonal editions. In the Business to Business segment, Nespresso has 16 distinct coffee assortments and customized collaboration solutions, such as Coffee Subscriptions for Companies.
The year 2022 marked a very important milestone for Nespresso. Symbol for the highest quality coffee industry Nespresso has built a responsible business model and achieved B-Corp certification in April this year. Moreover, Nespresso has achieved its goal that every cup of coffee – both in the home and professional range – has a neutral carbon footprint, an objective achieved both through initiatives to reduce the greenhouse gases generated by the company's activity, as well as through compensation initiatives carried out as part of relevant large-scale projects. The company had already achieved globally its objective of neutralizing the carbon footprint generated by operational processes (categories 1 and 2) as early as 2017, and in the last two years it has focused its efforts on neutralizing the carbon emissions that occur as a result of logistics operations and in the life cycle of products (category 3).
"The year 2022 was a landmark year for us, as we obtained the B-Corp™ certification and we achieved our goal that every cup of coffee – both in the home and professional range – has a neutral carbon footprint. In 2023 we will continue to offer coffee lovers buying experiences at the highest level, strengthening our presence in Cluj and Timisoara and implementing new services in the e-commerce and delivery area. We are also looking at opportunities to expand into new cities. Last but not least, we will focus our actions on promoting the Vertuo system: taking into account the novelty of technology, it is necessary to make it known among coffee lovers in Romania. We have noticed how Romanians' preferences have changed a lot in the last 7 years – evolving from coffee brewed "at the kettle" to espresso coffee, lungo and coffee recipes with milk, currently almost three quarters of the coffees consumed are "large", over 80ml. Vertuo system therefore meets the preferences of coffee lovers in Romania, perhaps with the most varied range of coffees and cup sizes, remarked at the same time by the generous layer of dense cream", says Ana-Maria Doxan, Business Executive Officer Nespresso.
Projects and plans Nestlé Professional
Nestlé Professional is Nestlé's expert in the field of out-of-the-home consumption, offering customized solutions of hot and cold drinks based on coffee and culinary products to a very wide range of customers: restaurants, fast food establishments, cafes, hospitals, offices. Nestlé Professional works with brands such as NESCAFÉ, Nestlé Dolcello, MAGGI®, ROASTALIER™ by NESCAFÉ and GARDEN GOURMET®. Nestlé Professional rents to its customers Table Top coffee machines, Vending coffee machines, Barista Espresso Machines, ROASTALIER™ machines and sells bean and soluble coffee, docello sauces and MAGGI® products.
Nestlé has always followed the trends and took into account the wishes of consumers, so the idea of a 100% RANGE OF GARDEN GOURMET® products of plant origin appeared. Nestlé Professional has launched on the Romanian market four products of plant origin GARDEN GOURMET® – Sensational Burger, Fillet Pieces, Vegan Nuggets and Vegan Schnitzel. These products are available through marathon distribution group's partner for the HoReCa sector or directly within the Metro Cash & Carry network.
ROASTELIER™ by NESCAFÉ® has simplified the art of roasting coffee and makes it accessible – this is possible thanks to INTELLIRoast™ technology, a patented coffee roasting and filtration system. The coffee is roasted directly on location, with two permanent assortments colombia and Brazil being available, respectively, in limited editions Ethiopia or Burundi, all of which are types of coffee of the highest quality, of unique origin.
"Our Nestlé Professional division has an approach centered on the operator in the HORECA area, being a B2B business, we work alongside dedicated distributors both in the area of coffee solutions and culinary solutions to meet the needs of the final consumers. Our concern for consumers and the environment is continuous, both in terms of the ingredients used and the packaging used, constantly innovating to make them as environmentally friendly as possible and easily recyclable. We estimate that alternative herbal products represent on average 3% of the preparations served in the HoReCa industry, with a very high growth potential. We believe that in the next 5 years, alternative herbal products can reach over 20% of the total preparations served. Therefore, if I were to summarize in a few words the activity of our division in Romania, I would say: care for consumers, solutions for business partners and innovation", says Ovidiu Tunaru, Business Executive Officer Nescafe Professional.
Projects and Plans CPW
The CPW division in Romania brings to the market a multitude of assortments: chocolate, with honey or strawberries, with yogurt or peanuts, one assortment for each member of the family – Nestlé Nesquik, Chocapic, Nestlé Cookie Crisp, Nestlé Honey Cheerios, Cini Minis, Lion, Fitness, Nestlé Corn Flakes and Nestlé Cheerios Oats. Cereals can help provide the necessary vitamins and minerals that the human body needs every day. In addition to breakfast cereals, there are also cereal bars, a nutritious snack with the taste of cinnamon, with musli or with fruit.
This year, in Q1, the division came up with novelties in the Adults segment by listing Fitness Dark Choco – a blend of whole grain flakes, crispy and topped with fine dark chocolate. Last month, it also entered the Musli & Granola segment, where they have not been present so far, with 3 assortments of Granola products: with Chocolate, Honey and Cranberries. The division focuses on the newly launched granolas, having all the characteristics of successful products: from whole grains, in 3 assortments and with a content of about 50% oats, having benefits for the body, with minerals and vitamins, being also a source of calcium, iron and rich in fiber.