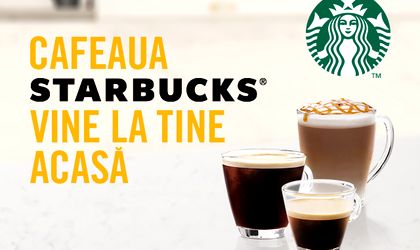 Nestlé launches on the local market a new range of products in the coffee category under Starbucks® brand, allowing consumers to enjoy their favourite Starbucks® coffee at home. Starbucks® portfolio is made of 22 coffee varieties, covering four categories: beans, roast and ground coffee and the first Starbucks® capsules developed using Nespresso and NESCAFÉ® Dolce Gusto® proprietary coffee and system technologies.
Among the newly launched products, there are 8 varieties of Starbucks® by Nespresso, some of them with emblematic names, others with single-origin coffee such as Colombia and Sumatra, together also with a decaffeinated option. At the same time, consumers will be able to choose from 8 varieties of Starbucks® by NESCAFÉ® Dolce Gusto®: three espresso coffees, two americano versions and three coffee specialties with milk – cappuccino, latte macchiato, and caramel macchiato. Along with these, 3 products will be launched in each of the two categories, beans and roast and ground coffee, with different roasting levels and names that reflect the stories behind the products. For example, Pike Place Roast is named after the first Starbucks® store in Seattle, and House Blend marks the beginning of Starbucks®, being the first blend, created in 1971.
"We are happy to bring consumers their favourite Starbucks® coffee at home. Nestlé and Starbucks® teams added together their coffee experience, technology and expertise in the selection, roasting and blending of coffee beans in order to create a range of great varieties. And we are sure that consumers will be delighted by the result. From the iconic Starbucks® varieties, to single-origin coffees and coffee specialties with milk which are very popular in Starbucks® coffee shops, the new products are made of high quality coffee, 100% Arabica." said Leszek Wacirz, Country Manager Nestlé Romania.
The launch of the new Starbucks® coffee products comes as a result of the collaboration between Nestlé and Starbucks®, the two companies joining forces in 2018. Through the global coffee alliance, Nestlé has the perpetual rights to market Starbucks® Consumer Packaged Goods and Foodservice coffee and tea products around the world, outside of Starbucks®coffee houses and excluding Ready-to-Drink products.
With NESCAFÉ, NESPRESSO and STARBUCKS, Nestlé now has an excellent coffee portfolio covering both in home and out of home, with the right match for every taste.