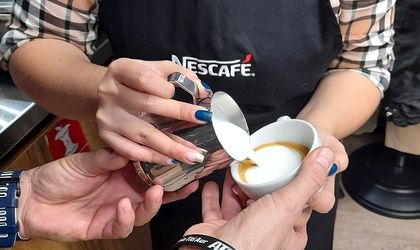 In premier in Romania, Nestlé, through its division Nestlé Professional, has launched the global youth initiative Young Culinary Talents (YOCUTA). YOCUTA is part of the global Nestlé Needs YOUth initiative, which aims to help 10 million young people around the world to access economic opportunities.
The program is designed to develop young culinary talents, strengthen their theoretical and practical skills, and prepare them for their professional career while helping the Foodservice industry to fill the shortage of skilled culinary workers worldwide. This is made possible through partnerships with Culinary Schools, Foodservice associations, and Industry Partners – at no charge to the students. YOCUTA was launched in 2015 in Latin America, and the program has already helped over 2,000 students in the culinary area. With the expansion of this program globally, Nestlé aims to increase its support to thousands across the countries in which operates.
At the first edition of the YOCUTA project, five enthusiastic young people with gastronomy abilities have participated in barista training. The participants went through extensive hands-on training with Marius Rusu, Coffee Expert Nestlé Professional, and career advice from Adriana Boldea, Talent Acquisition Nestlé.
"Since 2013, through our Nestlé Needs YOUth initiative, we have created job opportunities for hundreds of thousands of young people. At Nestlé, we want young people to become creative innovators, successful agripreneurs, and entrepreneurs. The YOCUTA program can help young people develop a successful career in the foodservice industry, and the opportunity to start their own business. Here in Romania, we saw in the last years an increasing interest for food services and plan to expand the project by making this an annual tradition for people with culinary talents", says Ovidiu Tunaru, Business Executive Officer Nestlé Professional.
The participants left the program with new information on coffee and had the chance to put into practice the knowledge they have acquired. They have received a diploma and essential experience, which gives them to the possibility to start or further build a successful career in the food industry.
Multiple factors point to the rising demand for culinary professionals in the foodservice industry worldwide. Vacancies and turnover remain high, and the number of skilled workers available today is inadequate to fill the needs. By providing a combination of classroom teaching, hands-on instruction, and continuing education, YOCUTA can help provide a fresh source of talent and make a true difference for the foodservice operations.
"We are very happy we managed to start this initiative in Romania, despite the difficult context we are all going through. The young people were really interested and determined to learn new things about coffee and to develop their practical skills. We look forward to continuing this project in 2022", says Marius Rusu, Coffee Expert Nestlé Professional.
YOCUTA is available to any student between the ages of 16 and 30 who is of legal age to work in their country of residence. Students come from a wide variety of backgrounds and demographics that need support in employability, and previous culinary experience is not required.
As part of Nestlé Needs Youth initiative, Nestlé has managed to involve over 18,000 young people at national level in Romania, in the last years.