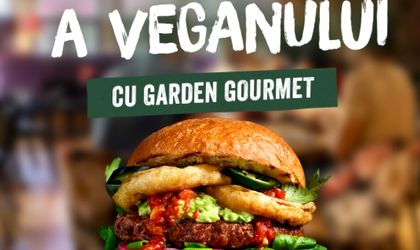 Nestlé, the world's largest food and beverage company, celebrates World Vegan Day with its GARDEN GOURMET® brand, made from plant-based ingredients. All products in this range, launched in Romania by the out-of-home division, Nestlé Professional, have vegan certification.
Nestlé offers food to consumers who want to reduce their meat consumption and eat more plant-based foods, in order to have a healthier lifestyle with a reduced impact on the environment.
Worldwide, meat consumption tends to decline in favor of plant-based dishes, which have diversified and spread on a large scale. More and more people declare themselves flexitarians, choosing to consume meat only occasionally. This is more than a trend, it is a change of mentality among consumers. The factors that determine the growth of the plant-based category are the impact on the environment, a healthy lifestyle, care for animals and reasons related to beliefs and religion. Consumers are becoming more and more informed and eager to be more environmentally friendly and aware of the ingredients found in the food they eat. If we look at the last two years, the range of "plant-based" products available on the Romanian market, from various manufacturers, has grown at an exponential pace, coming out of that niched product area and establishing a category in its own right.
A study conducted by Nestlé in collaboration with Masimi earlier this year at the zone level (Romania, Bulgaria and Serbia), shows that Romanians and Bulgarians are more aware of the importance and relationship between their diet and environmental sustainability (64% and 51%, respectively). About half of the citizens of all three markets (Romanians – 50%, Bulgarians – 53%, Serbs – 49%) consume at least 1-2 plant-based meals, plant proteins and meatless meals per week. Romanians consume 51% plant-based meals, 46% without meat and 40% plant-based proteins. The greatest potential for plant-based meals is seen in Romania and Serbia, where over 40% of consumers plan to increase the consumption of this type of food in the future, compared to about one in three residents under 50 in Bulgaria (28%).
Currently, on the Romanian market, Nestlé Professional has launched four GARDEN GOURMET® products – Sensational Burger, Fillet Pieces, Vegan Nuggets and Vegan Schnitzel, and by the end of this year it will expand the range by launching the fifth product: GARDEN GOURMET® Vengan Mince. All of these products have vegan certification. They are available in Romania through the partner in the HoReCa Marathon Distribution Group SRL sector or directly within the Metro Cash & Carry and Selgros Cash & Carry networks. The number of HoReCa locations where the products from the GARDEN GOURMET® range are listed has steadily increased from month to month, reaching currently over 320 restaurants. Since March this year, consumers who have visited the area of Gastro Carrefour, have been able to purchase and taste dishes made with GARDEN GOURMET® Fillet Pieces & Vegan Nuggets. These products are present in 42 hypermarkets, nationwide, and can be found under the following names: "Vegan Pan", "Pilaf Vegan" and "Vegan Nuggets Menus".
Also in the first part of this year, the partnership between Nestlé Professional and SC PLEURO IND SRL (Bite Sandwiches) was born. Consumers can taste two types of sectional Bite® sandwiches, made with GARDEN GOURMET® Fillet Pieces & Vegan Nuggets ingredients – "Vegan Fillet GARDEN GOURMET® Sandwich with Coleslaw Salad" and "Maia Nuggets GARDEN GOURMET® Baguette, Baked Peppers"). Both products are prepared entirely with ingredients of plant origin, suitable for people who consume only vegan dishes. They can be purchased from 500 locations, including Kaufland, Mega Image, Mol gas stations (except stations containing a Fresh Corner) and OMV. Nestlé Professional will continue this partnership with SC PLEURO IND SRL (Bite Sandwiches), by launching other products containing ingredients from its portfolio, having a common denominator: high quality ingredients, without making any compromises on the taste or appearance of the products.
"When it comes to the GARDEN GOURMET® brand, we want to raise awareness that we can all contribute to sustainability through our greener daily choices. This is our goal, not only in communicating with consumers, but also with all associates and partners through the supply chain with which we build and develop GARDEN GOURMET®. GARDEN GOURMET® products are the result of 35 years of continuous research and innovation. During the product development process, we have carried out numerous studies involving consumers and consulted with various chefs to bring them closer to GARDEN GOURMET® products, which fit well with all the ingredients we cook with. In addition to soybeans, which are not genetically modified, our products contain a wide variety of vegetables and cereals, to create the appearance, taste, texture and cooking properties like real meat. Great taste is a key element and we've never compromised on it. On the occasion of Vegan Day, we invite consumers to taste a vegan product to convince themselves if they are suitable for what they want to consume, in order to have a healthy, balanced and environmentally friendly diet", says Ovidiu Tunaru, Business Executive Officer Nestlé Professional Romania, Bulgaria, Adriatics.
Because it claims that nutrition is one of the factors that contributes significantly to improving the quality of life, Nestlé created VeggiePortia – the guide to a diet richer in foods of plant origin. Omnivores, vegetarians, vegans or flexitarians, VeggieThe variety helps everyone to prepare balanced meals based on vegetables, which provide all the macronutrients they need (proteins, carbohydrates, fats), as well as a good part of micronutrients (vitamins and minerals). It depends on each one how many herbal meals he wants to consume in a week. Everyone adapts their weekly menu to their lifestyle and nutritional needs. Nestlé recommends a simple rule: 3 days out of 7 only vegetable foods, applying the principles of VeggiePortion.
GARDEN GOURMET® Range
THE GARDEN GOURMET® SENSATIONAL BURGER has a shelf life of 12 months in the original sealed packaging stored at 18 degrees Celsius. Once defrosted it is stored at about 5 degrees Celsius and consumed within a maximum of 5 days. Products are packed in 2 kg bags, 17 pieces of burgers in the bag. It is prepared in the oven at 200 degrees Celsius for 10-12 minutes, and in the pan / grill / fryer at a temperature of 74 degrees Celsius.
GARDEN GOURMET® Fillet Pieces can be added to salads, soups, tortillas, sandwiches, pasta, stew. It is prepared in the oven at 180 degrees Celsius for 12-15 minutes or in the pan at moderate heat for 6-8 minutes. Shelf life: 15 months in original sealed packaging stored at -18ºC.
GARDEN GOURMET® Vegan Nuggets are an ideal preparation for the whole family, rich in protein and an important source of fiber. It is prepared in the fryer at 170 degrees Celsius for 2 minutes, in the pan for 7 minutes at moderate heat or in the oven at 180 degrees Celsius for 8 minutes. Shelf life: 15 months in original sealed packaging stored at -18ºC.
GARDEN GOURMET® Vegan Schnitzel combines the crispy crust on the outside with the great juice and aroma from the inside. Rich in fiber and protein of vegetable origin, this preparation is cooked beforehand and can be easily heated in the oven, in the pan or grill. It can be served as the main course alongside a garnish made of potatoes or vegetables, or it can be added to salad, soup, sandwich or wrap. Shelf life: 15 months in original sealed packaging stored at -18ºC.
The advantages offered by the GARDEN GOURMET® range for partners are the following: plant-based foods can improve customers' perception of restaurants, sensational solutions made of plant-based ingredients, a wide range of vegetarian dishes for the most picky consumers. GARDEN GOURMET® products have a soft or fibrous texture, and come in various forms from fillet pieces, schnitzel, nuggets and burger. Also, the range is prepared very quickly and easily, and the methods of cooking recipes – in the pan, grill, oven or in the fryer, lead to a pleasant cooking experience.