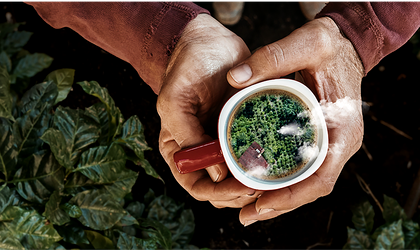 NESCAFÉ, Nestlé's largest coffee brand, is celebrating 85 years since launching and on this occasion it marks an unprecedented achievement in sustainability, from the farmers who grow coffee to how coffee is produced, packaged, and consumed, as the consumption reached new heights. With 6,000 cups of NESCAFÉ consumed every second around the world, Nestlé is committed to making a positive impact on people's lives and the planet, from the farm to the coffee cup. But what does 6,000 cups/second mean?
Imagine 6,000 people drinking a cup of coffee the same moment, the same place. It would be like the whole population of the city of Horezu, in Vâlcea county, according to the most recent census (source), for example, have a cup of coffee at the same time.
Moreover, 6,000 capsules mean around 48 kg of ground coffee. Extrapolating, the NESCAFÉ capsules consumed in a standard 24-hour interval worldwide require over 4,000 tonnes of ground coffee – that is, the equivalent of 166 long lorries, in a column of almost 3.5 km. In just a day, all over the planet.
Marking the 85th anniversary means highlighting some of the brand's sustainability achievements: the coffee used in factories in Europe is 100% responsibly sourced, and NESCAFÉ's recovered coffee grounds are used to power its production centres, which saves other energy resources. Besides, all this coffee we enjoy every day is 100 responsibly sourced, meaning that NESCAFÉ is now assuring the traceability of the raw material from any plantation to any distribution hub. Nescafe Pure soluble already has one of the most sustainable packaging: a glass that can be re-used and is endlessly recyclable and recently, the packaging of NESCAFE 3in1 sticks has been changed and now the whole packaging for NESCAFE 3in1 is designed to be recyclable.
In Romania, NESCAFÉ launched at the end of 2022 a collection and recycling service for NESCAFÉ® Dolce Gusto® capsules, implementing a complex process of separating the components – coffee, aluminium and plastic, the resulting materials being processed and becoming optimal for reuse. With the help of our partners, we have created a national network of collection points and will continue to focus on expansion so as to increase accessibility for consumers.
"Every morning, we enjoy a cup of coffee that actually represents the culmination of a gigantic agro-food industry and whose main actors are making efforts to radically transform into a 100% sustainable enterprise. Nestlé is at the head of this platoon of innovators in transforming the way agriculture is done on our planet. We have given the above figures to suggest the size of coffee consumption worldwide and, indirectly, the scope of Nestlé's efforts to ensure a sustainable agro-economic ecosystem", says Ramona Hărătău, Group Brand Manager Mixes SEM, Nestlé.
The volume of coffee consumed, on average, is enough for Nestlé, the world's largest food and beverage company, to make unprecedented efforts to ensure sustainable coffee consumption, to create an economic-ecological ecosystem through which nature to be able to regenerate and offer the desired products decades from now.
Over the past decade, Nestlé has worked to make coffee farming techniques more sustainable around the globe through the NESCAFÉ Plan. Building on these efforts, Nestlé launched the NESCAFÉ 2030 Plan in which it defined its sustainability vision for the next decade – to help coffee farmers transition to regenerative farming practices and, in doing so, aim to reduce gas emissions greenhouse effect and improving farmers' livelihoods.
"This new NESCAFÉ campaign brings sustainability to the forefront of our communication. We want to take consumers on a journey and show them the sustainability behind their cup of NESCAFÉ, from how quality coffee is grown, to how it is produced, packaged, and delivered. "Expect more from every cup" means we are committed to making a positive impact on the lives of coffee farmers as well as the planet", says Atana Skalko, BEO Beverages South East Market.
To mark the 85th anniversary, NESCAFÉ also announces the launch of a new brand slogan for the global communication: 'Make your world', to inspire consumers to make a difference for themselves, their communities, and the planet.