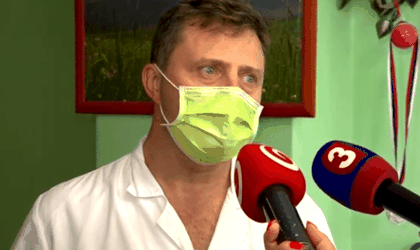 Dr. Rastislav Šaling, public health official in Slovakia, became the first person in Continental Europe to receive a monetary reward for whistleblowing, reports Mark Worth for Whistleblower Network News (WNN).
Dr. Šaling reportedly received a EUR 3,000 reward from Slovakia's Justice Department for revealing that health records were being falsified. An employee at the Regional Public Health Office in Poprad, the Slovakian Doctor became aware that hygiene inspections of new businesses had been faked. Official documents clearing that businesses to open contained phony signatures and stamps.
Šaling initially reported the issue with his superiors but was utterly ignored he alerted several public authorities including the Health Ministry and Slovakia's official anti-corruption hotline. The disclosures, which began in 2016, led to the conviction last year of a public health official for abusing his office.
"I would not change anything I did and how I did it. I consider this to be such a landmark – not only for myself, but also for society and for people who have similar mindsets and principles. I believe that the [anti-corruption] process will be kick-started. Igniting others for such a cause is necessary." Šaling told the newspaper Noviny.
Šaling received the EUR 3,000 reward under Slovakia's whistleblower protection law that was passed in 2014 and strengthened in 2019.
"We definitely think it's a good thing. Our hope is that it will motivate others to come forward and be recognized. We see this only as a positive thing," Zuzana Grochalov of Transparency International Slovakia told Whistleblower Network News.
"Slovakia's whistleblower law complies with most European and international standards, including giving people the right to inspect investigation files and submit additional information, which Noviny reported Šaling did in his case.
Moreover, the 2019 amendments established the Office for the Protection of Whistleblowers, the first of its kind in the European Union. Uniquely, the office has the legal authority to block an employer from taking any action against an employee unless it can prove the action was in no way connected with the employee having blown the whistle. The office is the first in the EU – and one of the very few in the world – with the independent authority to block whistleblower retaliation. Employees in Slovakia need not go to court to save their jobs. The office also will be in charge of issuing whistleblower rewards." Mark Worth explains.
The issue at hand, an all too familiar one here in Romania, where faulty hygiene and safety inspections have led over time to many public scandals, shows why Romania needs to strengthen its whistleblowing legislation and implement mandatory protection measures and robust rewards program for whistleblowers, topics which were discussed in depth at BR's recent Tax, Law & Lobby | Whistleblower Focus conference.