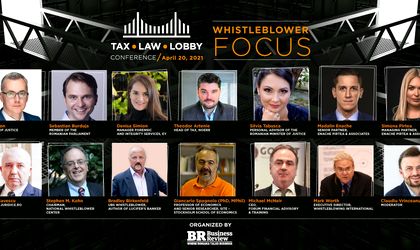 The Legal Track of BR's recent Tax, Law & Lobby | Whistleblower Focus has drawn a great deal of international attention, with speakers such as Stephen M. Kohn (Chairman, National Whistleblower Center), Chuck Grassley (U.S. Senator), Bradley Birkenfeld (UBS Whistleblower), Mark Worth (Executive Director, Whistleblowing International), or Jane Turner (FBI Whistleblower) talking about Romania's great chance to become a model country for adopting the EU Whistleblowing Directive.
"Fraud is designed to be done in secret. Corruption is not done publicly. Without an insider, a whistleblower, you can't detect corruption! […] Don't forget to have heavy sanctions for corruption. A slap on the wrist won't stop corruption." Stephen M. Kohn, Chairman of the National Whistleblower Center, said during his Keynote Speech.
Watch Stephen M. Kohn's full keynote speech in the video below:

"Whistleblowing is an issue very close to my heart. […] Thanks to whistleblowers, Americans have recovered billions of dollars lost to fraud. Whistleblowing holds individuals and corporations who break the law accountable for their actions. In an open and free society, whistleblowers are patriots who serve a very important role by promoting government transparency and accountability." Said US Senator Chuck Grassley at BR's Tax, Law & Lobby | Whistleblower Focus.
 Watch Senator Grassley's full intervention here:

Bradley Birkenfeld, UBS Whistleblower: "Whistleblowing is instrumental for a civilized society. […] It's important to realize that if people don't break the law, you don't need whistleblowing laws. But people do break the law! […] Lots of people today realize that whistleblowing laws do work, acting as a deterrent for corruption and fraud. Taxpayers are paying the price of fraud and corruption. We need to put an end to it. We have to make sure whistleblowing is done right."
Watch Bradley Birkenfeld's, the most famous whistleblower in the banking sector, Keynote Speech:

Mark Worth, Whistleblower International: "In 2004, Romania passed one of the best laws in order to protect public whistleblowers against retaliation. Only three countries in the world had that kind of law at that moment in time and Romania had the audacity of hope to pass that law."
Jane Turner, FBI Whistleblower: "25 years ago when I blew the whistle on the FBI it was seen as a heroic act, but the Director of the Bureau said, back then, that whistleblowers are an enemy of the state. What has changed since then is the law that now protects whistleblowers. The perception of whistleblowers has also changed; what has not changed is the risk they take when they speak!"
Watch Panel 3 of the Legal Track, titled Whistleblowing for Change: How Society Wins When Citizens Report Corruption, in which both Mark Worth and Jane Turner, together with Stephen M. Kohn and Bradley Birkenfeld, shared their great knowledge drawn from actual experience with the Tax, Law & Lobby audience: