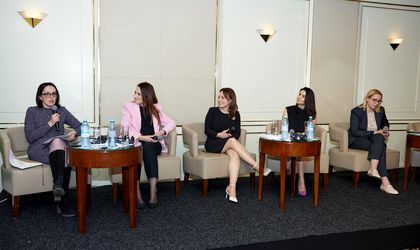 The second panel of Working Romania #futureofwork, entitled Employer Branding, gave the opportunity to some large employers to talk about the recruitment processes they go through and the benefits they offer to employees. The employer brand is a very important element nowadays, which can significantly ease the recruitment process. The speakers in the panel had the opportunity to highlight the significant differences between white-collar and blue-collar employees, and the desires and needs of the two categories can be very different.
Andreea Leonte, Schneider Electric: We launched the shareholding program for Romanian employees
"Today is a very good time to mention that we have just expanded our portfolio of benefits. It is a constant concern for us and for other companies on the market so that they remain competitive in attracting new employees. But, in addition to potential candidates, we also think about existing employees. We have a multitude of benefits, including in the area of employee well-being and hybrid working, with the possibility to choose their working hours when they want. This year, we also launched the shareholding program for employees in Romania, which is now underway. Through this, employees can buy Schneider shares at a preferential price. I had colleagues explain what the tax implications are and there were many questions from others," said Andreea Leonte, SEE HR Services Manager at Schneider Electric.
"Over time, we also had wellness events on the financial side. Especially after the pandemic, we started to look at well-being as an integral concept. We started having a whole week with such events where we had a lot of creative activities at the office with colleagues. Like the webinars where you learn how to best manage the money you have saved and which were very well received by your colleagues.
Currently, we are in hybrid working mode and have recently started yoga sessions, which can also be done at the office and which have also been well received by colleagues. In the future, we have many projects that will continue, but we are also looking at programs to help colleagues who have been with the company for a longer time, to help them in their careers, for example. We are thinking of launching a global T-shape program through which seniors can transmit their knowledge to other departments or regions.
On the recruitment side, I could not say that we do not find candidates, but rather it is a problem related to the long recruitment time. We also have internship programs through which we find a good number of candidates, and we even have colleagues who chose to stay after such programs. For our talent nursery, it often goes directly to the source, that is, to the universities, where we present the new technologies we develop. Besides this, we have a fairly large support centre, where we have speakers of foreign languages, 14 in total, for which we are also looking for candidates in universities. And we were surprised to find out that no one knew that we have a support activity, but we managed to have a good collaboration with the universities here as well. And, obviously, we often have recommendations from employees, which make the recruitment process much simpler and faster." – concluded Andreea Leonte.
Daniela Stanciu, Carmistin: Employees in rural areas have different needs than those in urban areas
"Carmistin is a Romanian business, to which I have become very attached since I have been working with him. An integrated business that respects the European "from farm to fork" principles, that is, we produce everything we need to offer chicken products in stores. This year we will open a third slaughterhouse, for which it will be necessary to recruit a significant number of employees. On the pork side, we don't have the whole integrated business yet, now we only have farms, we are going to invest in pig slaughterhouses in the next period. There are other business directions, such as the pellet factory in Valcea for chicken shelters. Likewise, we have land that is not arable and on which we have installed photovoltaic panels," said Daniela Stanciu, HR Director at Carmistin.
"We have over 3,100 employees, in Bucharest there are only 142 people. This means that we are dealing with extremes; the programs we are discussing here apply to employees in Bucharest, but in the rural area where over 90% of the employees are, the reality is totally different. They are happy to receive their salary on time, not to mention other benefits. For them, the fact that we are a fair employer is very important. We tried to see what the needs of those people are, we went to them and sought to see what problems they face. One problem was that many of them work for us as husband and wife, and they have problems with taking care of the children at home. For them, we launched an afterschool program for children, they are brought with our transport vehicles, they have a hot meal and they also have teachers who help them with their homework. These are the problems they need help with. This year we also launched a children's camp, for now it is at the beginning, we hope to expand next year.
When we talk about people who work in the slaughterhouse, there are different conditions. They cannot work remotely, they work at very low temperatures. They can have health problems because of this, and we try to help them through medical assistants who are always there and who consult them whenever they need, including by teaching them about the problems that can arise and about which they know nothing. These are the real benefits for them, for those who are in the blue collar area.
On the recruitment side, I can say that we are lucky to have a well-known brand on the market and seen as positive. We also had help from the state, which allowed us to give good salaries, and for them 100 lei is important. Also, it is a stable job no matter what problems arise in the economy; we will need food all the time. And they need this security, then the fact that we are a Romanian company, in the rural area is important. We often go abroad, but we have noticed that after flirting with a job abroad, many returns and prefer a stable job here, at home.
The next slaughterhouse will open in Olt, where we are looking for 800 employees plus 200 TESA staff, and we will see how we convince them, not being known there. We go to professional schools and look for collaborations, through which we promise them a job after they go through an internship period. And we hope that we will quickly create a positive brand in the Olt area as well." – concluded Daniela Stanciu.
Mirela Petrus, Flanco: Employer branding is a priority
"Flanco currently has 169 stores in 115 cities in the country, with 1,400 employees, of which 1,200 are in workplaces. There we had to build an infrastructure for the recruitment process. An infrastructure that is based on a learning area, an e-learning platform where we have quality content for colleagues in stores, content that we can deliver anytime and anywhere. In the past, HR departments came up with training programs that they thought were suitable for colleagues in the company, but now we come up with what they need, not what we think they need," said Mirela Petrus, HR Manager at Flanco.
"We also have workshops through which we develop financial education, to learn how to spend and save money, not just to earn it. Programs that were very well received by colleagues.
The personalized programs that I made at the network level came through the suggestions of colleagues in the network. In addition to the performance criteria, we also follow the human aspects, of relationships between colleagues and at the team level. It is very important especially for team management, for leadership and for training leaders.
In attracting new personnel, the brand is very important, both the company's and the employer's. For us, the employer brand is a priority, it can mean 50% of a recruitment process. Regarding long-term sustainability, we have approximately 80% of our employees who have been working for us for many years. In addition, we have many partnerships with educational institutions and internship programs, but also CSR programs through which we support disadvantaged children to continue their education. We are also looking at the 45+ category, seniors who can become ambassadors of our brand, they already have an important experience behind them.
The recruitment area targets the internal area as much as the external area. We use the academic environment to attract talent, we use recruitment sites, then we also go for internal recommendations." – concluded Mirela Petrus.
Gina Cruceru, Rompetrol KMG International: A senior emplyee close to retirement can become a mentor
"The rethinking of the leadership model came as a result of the pandemic, it forced us to do this rethinking. Then I noticed more easily how diverse the workforce is that we have at the Rompetrol level, from divers to sales representatives in the territory. Managing all these people during the pandemic, i.e. testing appointments and everything related to health security, was very difficult. We digitized everything that could be digitized, but we lacked community management. That's why we went to the people, whom we asked how to create the feeling of belonging in a community and how to make it last as a business. Financially, we and the rest of the industry had major losses, including the decarbonization plans," said Gina Cruceru, HR Group Director at Rompetrol KMG International.
"But we managed to turn all this into an opportunity for us. The construction of the cogeneration plant and many others are barely being discussed. And through focus groups and surveys, we asked people what to do. That's how I found out that we are a good school. We realized that if we put this in the center we can have behind us all the programs we have, all the education and training courses we have been running for many years. Then we also rethought the leadership model, because it was not normal for only those in senior positions to be models, but to have leaders at a much lower level. Without the financial pressure from the C-management level we can say that "together we grow people".
There are communities where we have whole families working for us. The strategy was to involve everyone, to contribute, to create a context so that at the end of the day, we also have the financial targets met. And we also had marathons in which the CEO also ran and even won, we had tree plantings in which top managers also participated. I mean, they all saw that we can do more than "job description".
A senior close to retirement can become a mentor, he knows best what needs to be done in his department and can teach the younger ones. And many have understood that it is everyone's duty to pass on the knowledge they have and everyone is willing to do this. We also help school students through various programs. I have been working at Rompetrol for 12 years and I can say that for 12 years and even more we have had problems with recruiting qualified people, because the education system has led and continues to lack investment. That's why we also got involved in education programs.
For me, sustainability also means the people who stay in a company and who pass on the knowledge they have, who carry on a business and an organization. Many just pass through a company, but those who stay are the ones who make the business sustainable. We have approximately 150 people who retire every year, they are important people that we lose. That is why we have had internship programs for 23 years in the company, not just a few years." – concluded Gina Cruceru.