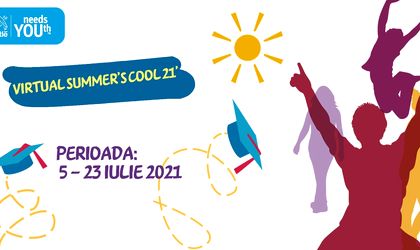 Between July 5th and 23rd, 2021, Nestlé Romania is running the fifth edition of Summer's Cool, a development project addressed to students and recent college graduates. The company organizes Summerʹs Cool, in order to open new career opportunities among young people and to be actively involved in their education. More than 700 young people from 4 countries applied for one of the 60 available places. The 60 young people will also be the first to enroll in YOUth eBusiness Academy, a program designed to increase young people's digital skills.
During three weeks, participants will have the opportunity to learn from specialists in the fields of Project Management, Logistics, Finance, Market Research, Sales, Marketing, Digital, Public Relations, E-Commerce, Nutrition and Leadership key information in the workshops to develop leadership skills, communication, teamwork, critical thinking, emotional intelligence, to benefit from a multicultural experience, working with students from other countries and discovering new cultures and perspectives, gaining practical knowledge by completing a project team and receiving support and mentoring from Nestlé leaders.
This project, together with the other projects carried out under the Nestlé Needs YOUth initiative, brings a solution to the worrying reality of unemployment among young Romanians aged 15 to 24, 17.3% according to the National Institute of Statistics[1].
"Since 2013, Nestlé has supported future generations of leaders, entrepreneurs and agripreneurs through Nestlé Needs YOUth Initiative. In recent years, 4,000 young people in Romania have benefited from our projects. Last year, 20 students participated in the online edition of Summer's Cool, and this year we want to attract with us in the project 60 young people from 4 countries: Romania, Bulgaria, Serbia and Croatia. Until 2025 we are committed to offering 20,000 new employment opportunities and 20,000 apprenticeships and internships in Europe, the Middle East and North Africa", says Loredana Gîlmeanu, SEM HR Business Partner & Country Lead, Nestlé Romania.
Summer's Cool is an initiative designed to complement the theoretical training offered by the school, with a practical training, which will familiarize students with the requirements and reality of jobs in the business world. In addition, students whose results were noted during the workshops will deepen their knowledge by starting internships.
During this edition, young people will be challenged to work in a team and prepare a case study on sustainability. At the end of the summer courses, all participants will be rewarded with special prizes.
This spring, Nestlé also launched YOUth eBusiness Academy project, in which all participants from the summer school will be enrolled. Participants will acquire advanced digital skills and will eventually obtain a certification attesting to the completion of the course. Particular attention will be paid to this project in Romania and in the entire South-Eastern Europe region, where the European Commission draws attention to the low rate of digitization among young people. According to Eurostat data from 2019, just over 50% of Romanian young people had a minimum level of knowledge and skills in the digital space[2].
Through virtual initiatives for young people, Nestlé is committed to providing them with diverse learning experiences, including courses in the digital space, to enable young people to gain experience.
In Romania, 228 young people participated in internship and traineeship programs, and over 100 events dedicated to skills development and support for their employment were attended by over 3,800 young people. Together with its local partners, Nestlé has managed to involve more than 18,000 young people nationwide in its activities.
[1]https://insse.ro/cms/sites/default/files/com_presa/com_pdf/somaj_2020r.pdf
[2] Do young people in the EU have digital skills? – Products Eurostat News – Eurostat (europa.eu)