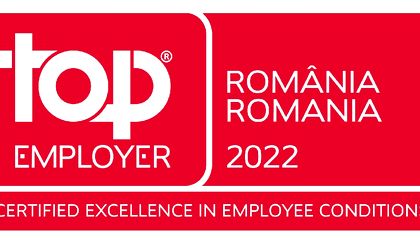 Michelin Romania gets certified as Top Employer for the third year in a row and consolidates its position as Top Employer on the national market, being the only company in the auto industry in Romania to get this certification the last 3 years in a row from the Top Employer Institute in The Netherlands.
The company kept its highest score, over 97%, in the categories Business & People Strategy and Leadership. Top Employer team analyzed both the way the employees are involved in the understanding and implementation process of the company's strategy, the existing leadership model of the organization and how it is used to ensure the professional growth of the employees, as well as the strategy for attracting talent, along with workforce planning or the integration of new employees.
Michelin registered a higher score, as compared to 2021, in areas like talent acquisition and on-boarding along with learning, development or organizational culture, a great achievement of the human resources team considering the pandemic context and the increase of digital space in daily activities. This certification is a valuable recognition of Michelin's focus on talent management and the excellent working conditions it provides to its employees by creating professional development and skills improvement programs.
"We are proud to consolidate our position on the Romanian market with the Top Employer certification for the third year in a row. These past 2 years were challenging and I am proud of our team because we continue to evolve and to be besides our employees and our communities when they needed it the most.

People were always at the heart of Michelin activities and this 3rd year is a clear confirmation for the company's values and priorities. Michelin Romania is offering a wide range of benefits to its employees and our intention was always to recruit for a career, not for a job. Our promise is a professional road that is adapting to each's talents by allowing employees to start their professional life in one department and then to move to another one, according to their abilities.

We are looking forward to welcoming many new colleagues to the Michelin team" said Agata Trzcianowska, Personnel Director Michelin Central Europe.
Every year, the Institute analyzes companies through a detailed assessment of its people practices, using the HR Best Practices Survey. The companies are scored based on 20 criteria such as talent acquisition, business strategy, performance, well-being or diversity and inclusion practices.
Top Employers Institute CEO David Plink says: "Reflecting on the demanding year that has, like the year before it, impacted organizations across the world, Michelin has continued to show that it prioritizes maintaining excellent people practices in the workplace. They continue to meet the challenges of the changing world of work while working tirelessly to make a positive impact on the lives of their workforce. We are pleased to celebrate and applaud the organizations that have been certified as Top Employers in their respective countries this year."